300L All In One Heater
300L All In One Heater
Brand :AIM
Product origin :China
Delivery time :20days
Supply capacity :5000units/month
Reliable and Durable
The all in one heat pump has best quality and comply with EU standard. It has been sold to worldwide for years and turn out to be a reliable and durable product.

Convenient and High efficiency
Benefits from slim body design, it ca be transported or handed easily and takes small space for installation.
When positioned, it just requires water pipe connections and electricity power supply, so it's convenient and cheap for installation, and will operate automatically without taken special care.
During the operation, it generates low noise, which is not bothering the neighbours.

Stable 70℃ hot water supply
The maximum outlet water temperature reach 70℃ hot water assistance of electric heater so that to prevent electrical shock.
It is designed to supply domestic hot water for family or small business use in the purpose of energy saving with highest thermal transfer efficiency compared with traditional boiler.
All in one Air To Water Domestic Hot Water Heat Pump air source heater Mitsubishi compressor 100-500L
AIM Heat pumps have several advantages compare to other water heater:
1. Save money. Heat pump is a high efficiency water heater, to supply 4kw energy; it just consumes 1kw electric power. So compare to electric heater, it can save 3kw electric energy. Save energy means save money.
2. Environment friendly. Heat pump only need electric, so it doesn't burn fuels, doesn't exhaust pollution of air and water. It's very clean.
3. Safe. Compare to common electric water heater, water and electricity is segregated in heat pump, avoid people getting an electric shock when bathing. Make sure humans' safe as Multiple-protections.
4. Free installation: Heat pumps can be installed in the garden, on the balcony, or on the housetop, or any place you like.
5. No affected by weather: Heat pump can work in the day and night. You can get hot water at any time.
6. Government support: Now, more and more countries government support heat pump users and give them subsidy.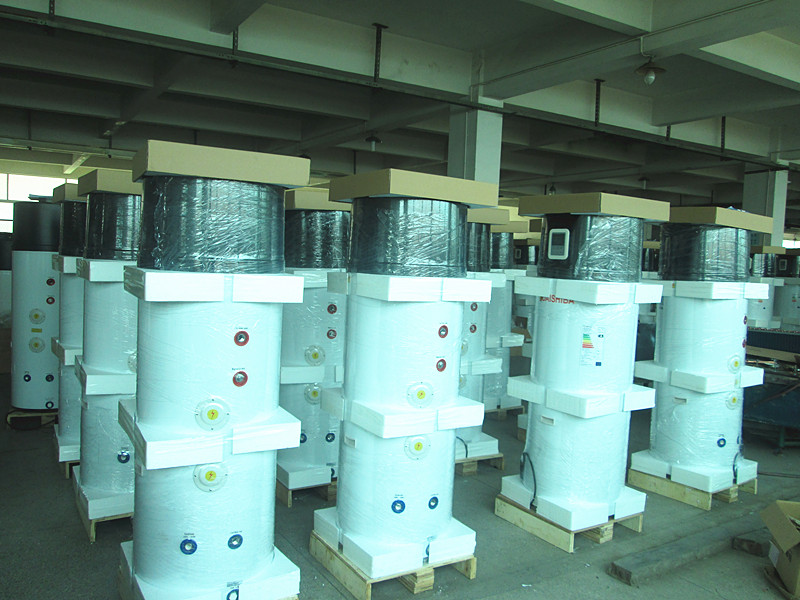 Spec:
Model
JTS-150L
JTT-200L
JTT-250L
JTT-300L
Heating capacity
kW
2.8
2.8
2.8
2.8
Power input
W
700
700
700
700
COP
W/W
4
4
4
4
Power supply
V/N/Hz
220~240/1/50
Compressor
Rotary
Refrigerant type
R410A / R134a
Water tank Volume
L
150
200
250
300
Ventilation type


Side discharge
Top discharge
Top discharge
Top discharge
Housing


Stainless Steel or Powder coated
Apply for persons number


3~4
4~6
6~9
7~15
Net Dimensions
mm
560x560x1560
Φ560x1740
Φ560x1970
Φ640x1860
Packing Dimensions
mm
580x590x1760
580x590x1940
580x590x2120
700x700x2060
Net Weight
kg
80
82
92
103
Gross Weight
kg
85
87
100
112
Noise level
dB(A)
48
48
48
48
Features included:
1.5kw auxiliary electrical heater
Electronic expansion valve
Magnesium stick
Relieve / safety valve
One extra set of heat exchanger, such as Solar coil
(optional, if you need please claim in advance)
Container loading
20' GP(units)
40
40
40
24
40' GP(units)
80
80
80
54
40' HQ(units)
80
80
80
54
NOTES:
Capacities and power inputs based on the following conditions:
- Heating: Ambient temperature 20℃/12℃, Water temperature from 10℃ to 55℃.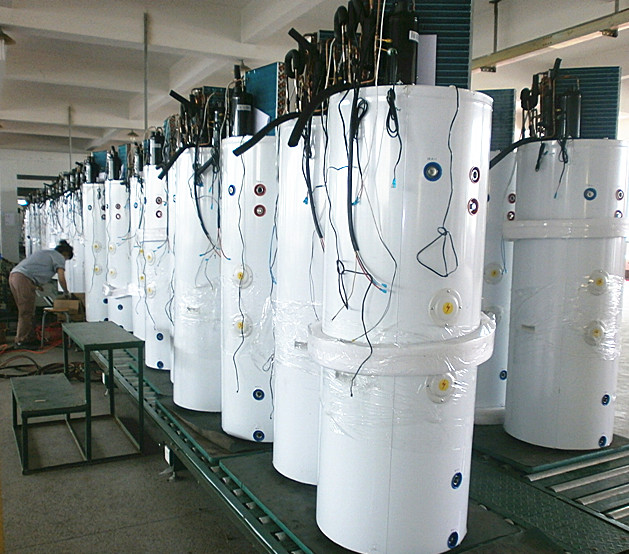 Best Warranty and Fast Service:
1. MOQ: 1 unit (For a larger order, the price will be fixed upon receipt of a definite order)
2. Delivery Time: 7~15 working days after the order is confirmed
3. Payment Term: TT/LC. Large order, 30%TT before production, balance before delivery; samples, 100%TT before production
4. Package: Samples are packed by plywood or wooden frame; the full container small goods by carton, large goods by wooden frame.
5. Shipment Term: CIF,EXW,FOB Shenzhen, Guangzhou, Foshan Port (Other terms welcome put forward)
6. Quotation Deadline: Half a month.
Guarantee:
2~3 years for main parts such as compressor, 2 years warranty period for host machine, give technical consultation for ever.
If you purchase one container or more, there is discount. Also you can gain 1% accessories of total amount. The more you purchase, the cheaper price you'll get.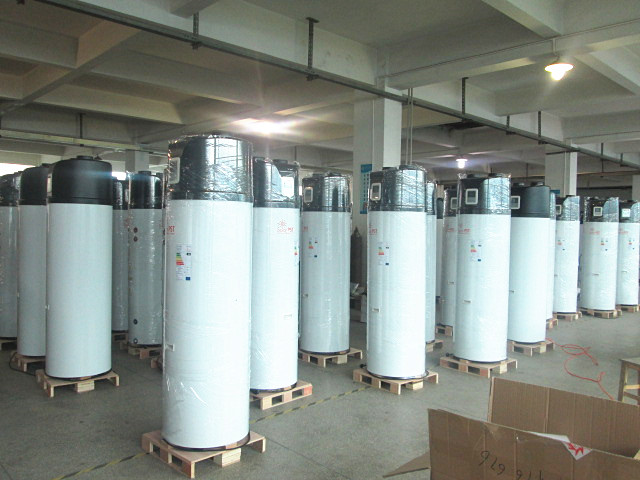 Sales Manager: Ms. Jenny
Guangdong AIM Energy Saving Technology Co., Ltd.
Add: Longchuan Dengyun Zhen Shenzhen Nanshan(Longchuan) industrial transfer park,Heyuan,Guangdong
Cell & WhatsApp & Wechat: +86 15919073687
Jenny Zeng. Skype: jenny02025
E-mail: jennyzeng5@foxmail.com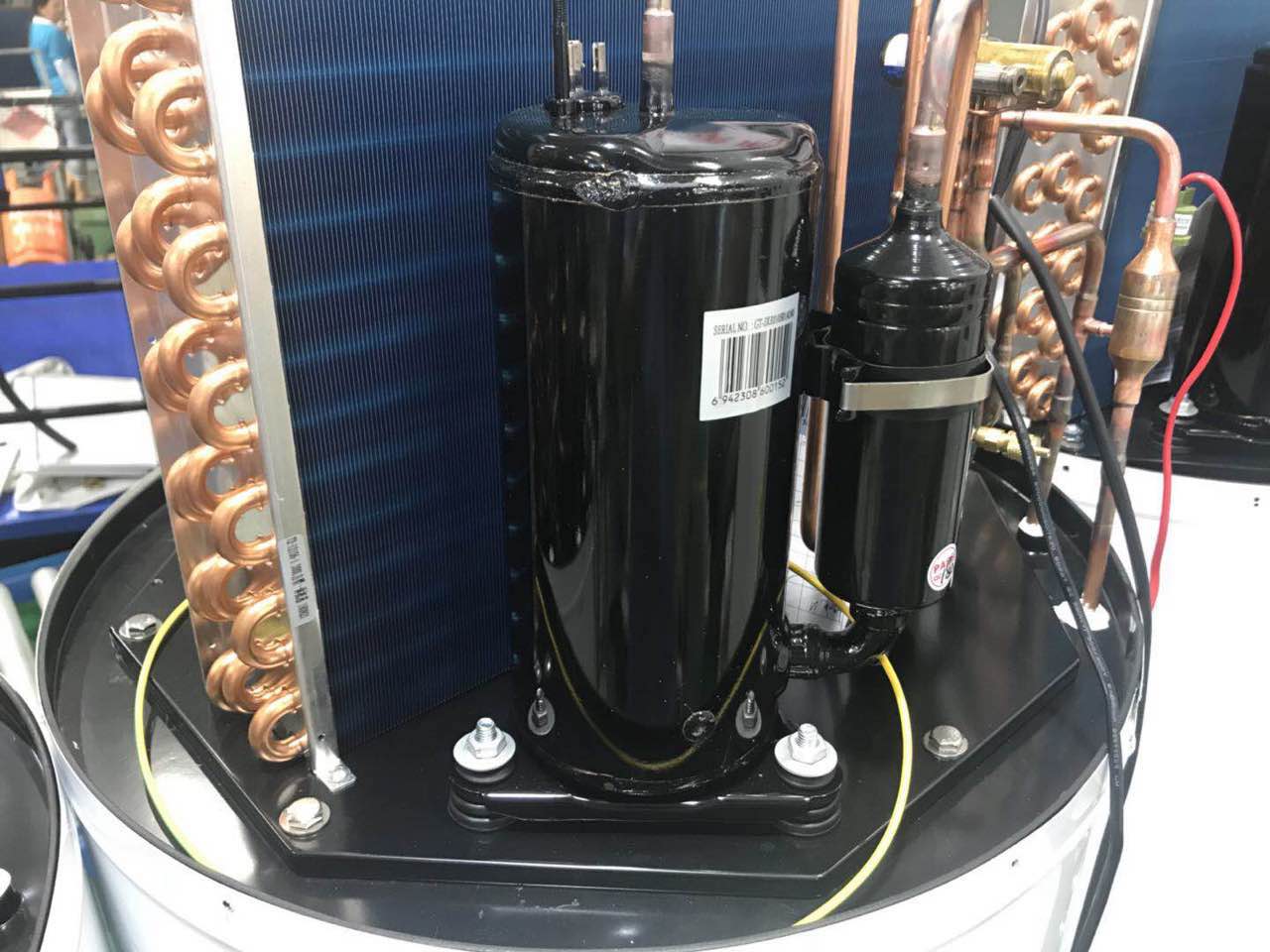 1:"Quality is our culture" 90% of AIM heat pump production equipment is imported from USA, Japan and Germany.
2:"With us your money in safe" full refund in case of bad quality or delay delivery time we also accept payment by Paypal.
3:"Time is gold" for you and for us, we have professional team work whom can making nice quality in short time.
4:"Quality is the soul of an enterprise" we had the honor to serve big customers (We gained the outstanding best selling).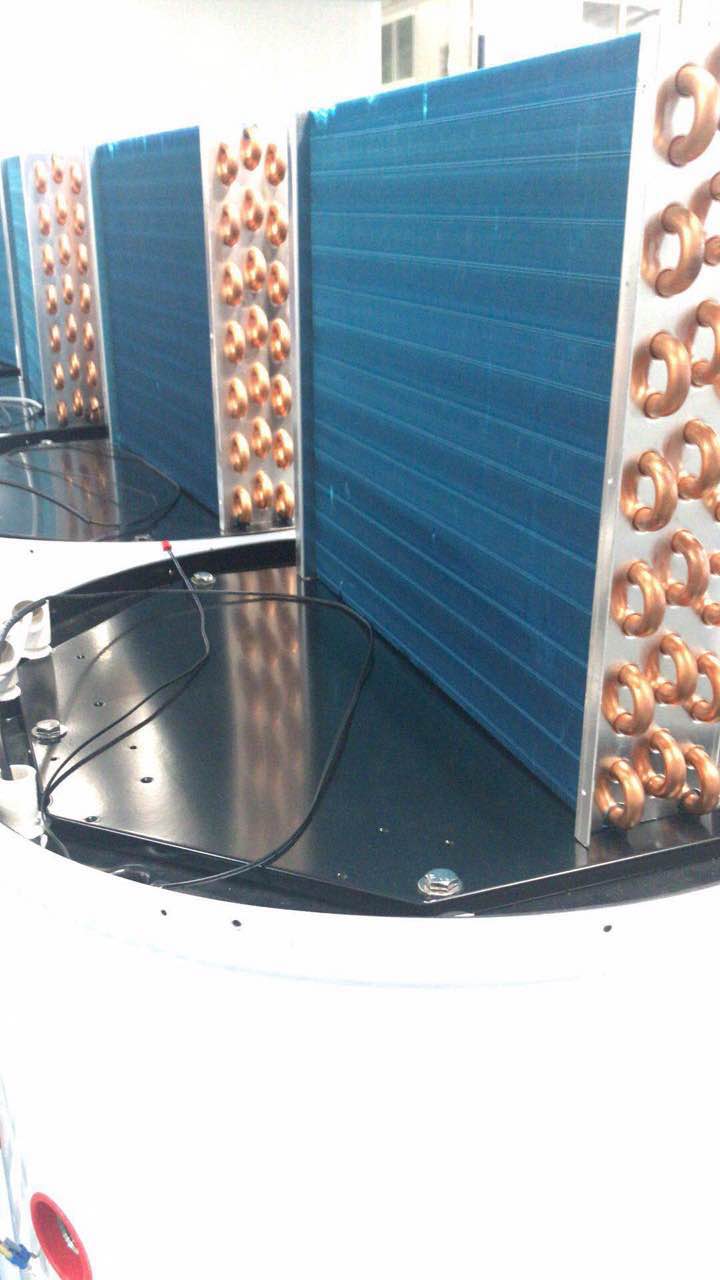 Working Principle:
Compressor gets the low temperature and low pressure air refrigerant from evaporator, then turn it into high temperature and high pressure air, this air gets into the condenser to exchange the heat with water, then the condensed air become low temperature fluid and release lots of heat energy.
Water gets this heat energy and become hotter and hotter.
This high pressure and low temperature fluid become low pressure by the primary flow meter device.
This low pressure and low temperature fluid, gets into the evaporator, Under the function of rotation fan, heat energy from air is absorbed by the fluid and becomes low pressure refrigerant,
then is absorbed by compressor, recycling to produce the hot water.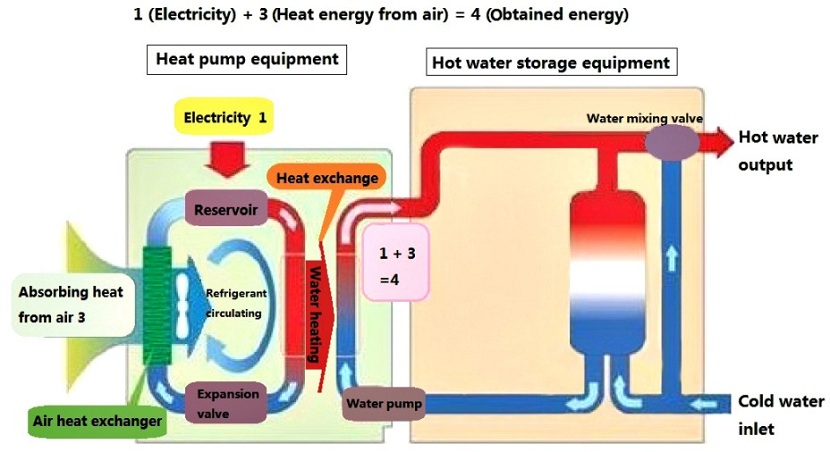 Production process of heat pump
1. Base plates go online
2. Install compressors, condensers and evaporators
3. Assemble and weld copper pipes
4. Recharged with Nitrogen
5. Water-inspection (Check if exist in air leakage)
6. Discharge Nitrogen
7. Vacuum air-removed
8. Add refrigerant
9. Halogen inspection
10. Fix fan component
11. Install electrical control
12. Security checks (Insulation, Ground connection, Dielectric Strength test, Leakage)
13. Run commodity inspection (The noise of components and parts, Function, Timing, shutdown, current, Difference in temperature)
14. Stick nameplate and connection diagram
15. Document attached (Product Manuals, instructions)
16. Final inspection (Appearance parts)
17. Packing
18. Tape-out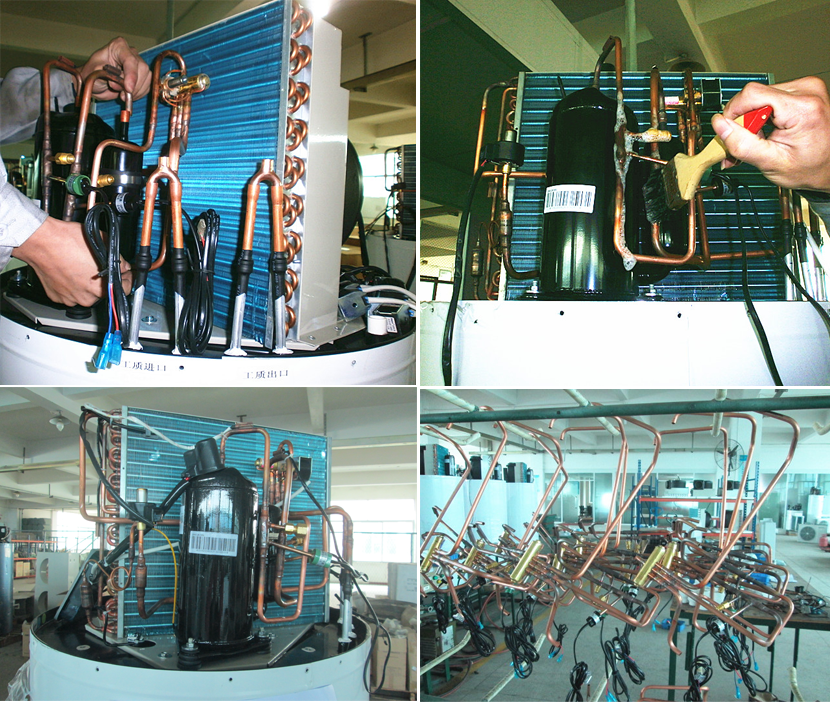 AIM is a professional heat pump manufacturer based in China. With over decades of experience in the HVAC industry, AIM has become one of the leading brands of quality heating, cooling & hot water system. Our main products include heat pump, air conditioner & water tank equipment.
Guangdong AIM Energy Saving Technology Co., Ltd. was founded in 2000 and have well experience in energy-saving products, which is one of biggest Stainless steel heat pump in China. We have developed whole series of heating system equipment & energy-saving products with 10 series and more than 50 kinds of products.
Our products range is as below:
Air to water heat pump.
Water to water heat pump.
Water to air heat pump.

Commercial air conditioner.
Fan coil units.
Besides Chinese market, export business is our main business. So most of our products are coming with international standard, some of our products have obtained international certificate, such as CE, RoHS, SAA certificate and ERP label etc, and our factory execute ISO9001:2008 strictly. We are always insists on the principle of quality first, customer first, and focus on high-quality, competitive cost & fastest services. So far, our products have entered over 50 countries and regions with either brand name AIM or OEM brand.

We are always on the look-out to build strategic partnerships in overseas markets and welcome opportunities where we can work in tandem with you and succeed together. OEM & ODM inquires are welcome.

Looking towards the future, AIM will build a fresh and quiet living environment and comfortable life for you.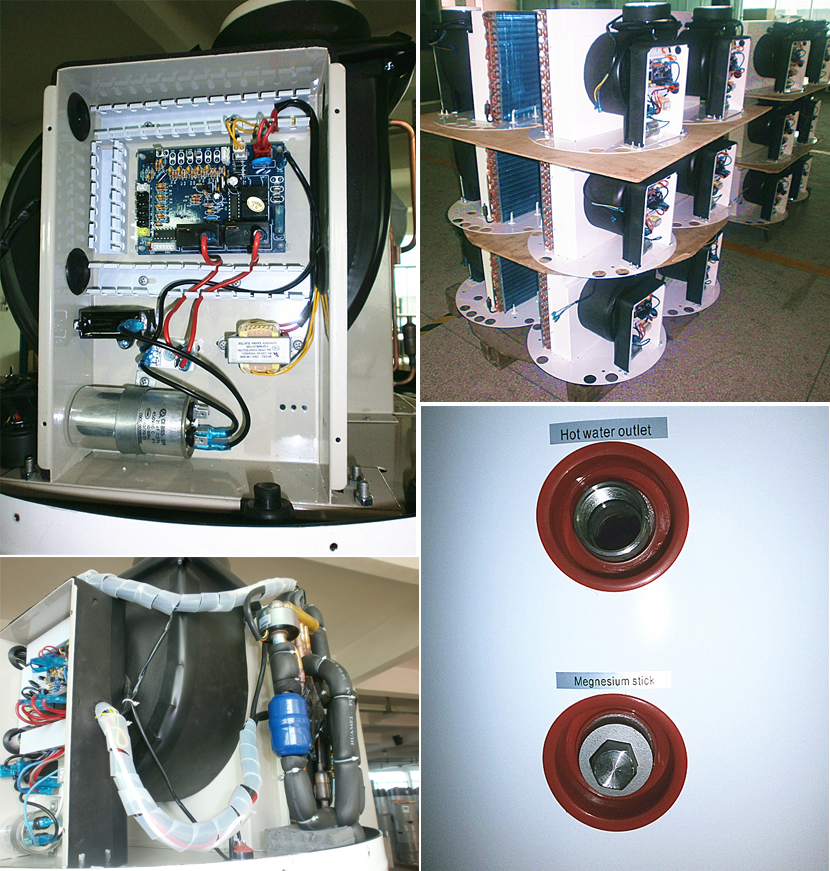 Get the latest price? We'll respond as soon as possible(within 12 hours)