Air To Water All In One Domestic Hot Water Heat Pump
Air To Water All In One Domestic Hot Water Heat Pump
Brand :AIM
Product origin :China
Delivery time :20days
Supply capacity :8000units/month
Description:
It can supply hot water for domestic, life, bath.

Features:
Domestic hot water at any time
Economic & durable & stable running
Intelligent defrosting
Famous brand rotaty compressor
70℃ hot water Automatically sterilize per week
Energy saving >75%
Easy to install, just connect power
Metal case, SUS 304 Stainless steel case
Low noise & vibration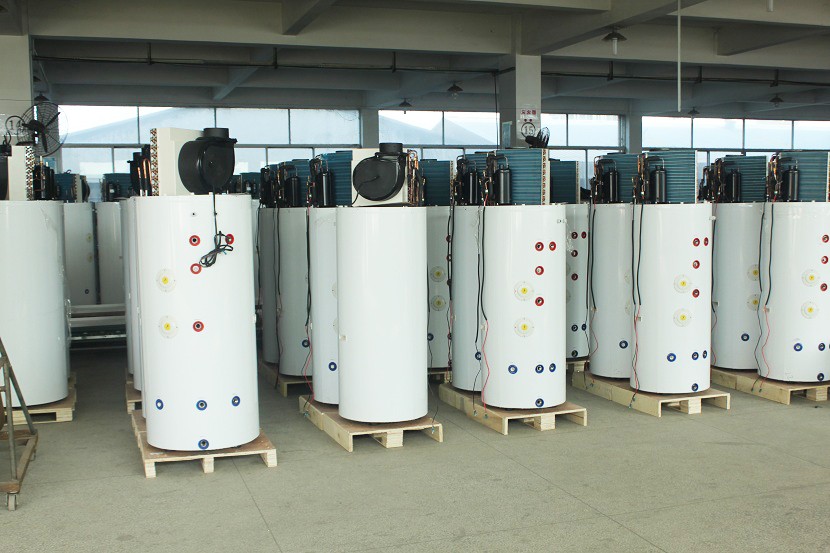 Specification - All in one Domestic Hot Water Heat Pump
Model
JTS-150L
JTT-150L
JTT-200L
JTT-250L
JTT-300L
Heating capacity
kW
2.8
2.8
2.8
2.8
2.8
Power input
W
700
700
700
700
700
COP
W/W
4
4
4
4
4
Power supply
V/N/Hz
220~240/1/50
Compressor
Rotary
Refrigerant type
R410A / R134a
Water tank Volume
L
150
150
200
250
300
Ventilation type


Side discharge
Top discharge
Top discharge
Top discharge
Top discharge
Housing


Stainless Steel or Powder coated
Apply for persons number


3~4
3~4
4~6
6~9
7~15
Net Dimensions
mm
560x560x1560
Φ560x1560
Φ560x1740
Φ560x1970
Φ640x1860
Packing Dimensions
mm
580x590x1760
580x590x1760
580x590x1940
580x590x2120
700x700x2060
Net Weight
kg
80
74
82
92
103
Gross Weight
kg
85
78
87
100
112
Noise level
dB(A)
48
48
48
48
48
Features included:
1.5kw auxiliary electrical heater
Electronic expansion valve
Magnesium stick
Relieve / safety valve
One extra set of heat exchanger, such as Solar coil
(optional, if you need please claim in advance)
Container loading
20' GP(units)
40
40
40
40
24
40' GP(units)
80
80
80
80
54
40' HQ(units)
80
80
80
80
54
NOTES:
Capacities and power inputs based on the following conditions:
- Heating: Ambient temperature 20℃/12℃, Water temperature from 10℃ to 55℃.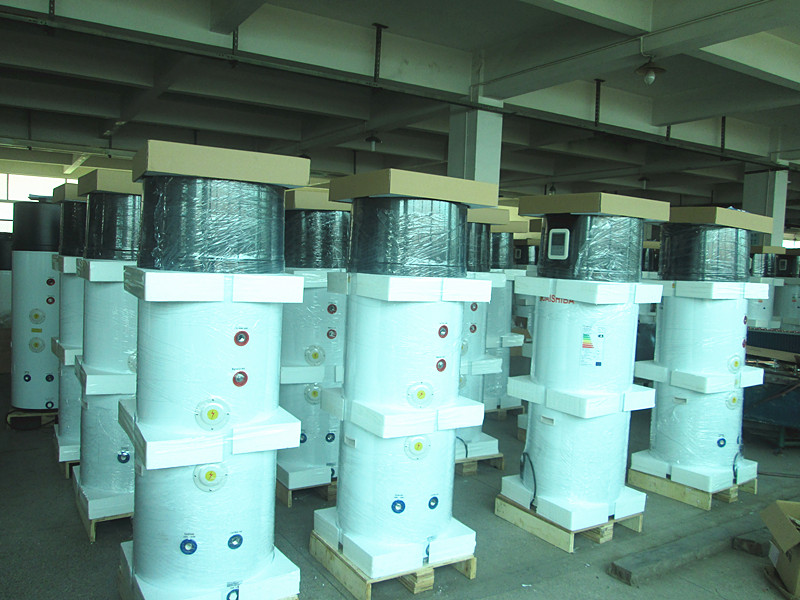 Main quality control project list:
1. Check all parts before assembling.
2. Charge nitrogen to test leakage and pressure maintaining after welding system.
3. Vacuumize, the vacuum pressure ≤30Pa
4. Leakage detection by halogen after charge refrigerant.
5. Safety testing: High-voltage insulation test and ground resistance.
6. Operation testing, record refrigerant pressure, temp. etc.
7. Inspect inside unit's cleanliness and appearance.
Air and water source heat pumps Main components and Effect:

1. Compressor: Famous Brand Panasonic, Sanyo, Mitsubishi,Toshiba Rotary Compressor or Sanyo, Copeland, DAIKIN Scroll Compressor with environmentally friendly Refrigerant gas R407C/R410A/R134a/R417A
Effect: Compress and transport cycle fluid from low temperature low pressure to high temperature high pressure, it's the heart of heat pump system.
2. Evaporator or heat exchanger: Hydrophilic aluminum foil Finned tube Heat Exchanger.
Effect: It's the cooling output facility. Evaporate the refrigerant liquid which flowing through the expansion valve to absorb the heat from the cooled object, so achieve the purpose of cooling.
3. Condenser: Coil type, plate type, casing type, High efficiency tube in shell heat ex-changer or Titanium heat ex-changer.
Effect: It's the heating output facility. Heat absorbed from the evaporator with the converted heat by compressor power consumption is carried away by cooled medium in the condenser, to achieve the purpose of heating.
4. House casing: anti corrosion and rustproof Stainless steel or Spray coating metal plate for whole set of casing, Buttress and frame system, Electric Control Box etc.
5. Microprocessor automatic Controller sets: LCD touch screen Wifi Display, Neatly wiring PCB Board in individual controller box, Whole sets of temp sensors, Capacitors, Transformer.
6. Copper Pipes: throttling device, pipes connect all system, compressor, heat ex-changer, EEV and so on sub-assembly.  
7. Thermostatic expansion valve or Japanese Sanhua Electronic Expansion valve and 4-Way Valve
EEV Effect: For circulating fluid Throttling depressurization and adjust the flow of cycle fluid into the evaporator.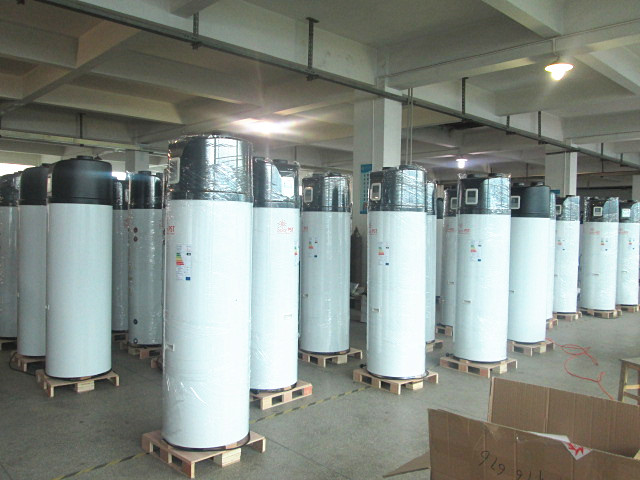 1 Q: What is the principle of air source heat pumps?
A: Heat pump runs through compressor system revolve, so as to absorb air heat to generate hot water.
2 Q: Why air source products achieve energy savings? How to achieve energy saving, what is the normal energy saving rate?
A: The air source water heater is to obtain a large number of free heat energy from the air. The power consumed is only the energy used by the compressor to carry the air energy. Therefore, the thermal efficiency is as high as 380%-600%. Heat the same amount of hot water, the air source water heaters usage cost is only 1/4 of electric water heaters, 1/3 of gas water heaters, and 1/2 of solar water heaters'. High thermal efficiency is a large feature and advantage of air source water heaters. When energy problems become a world problem, this is one of the more important magic weapons for air source water heaters to become "The fourth generation water heaters".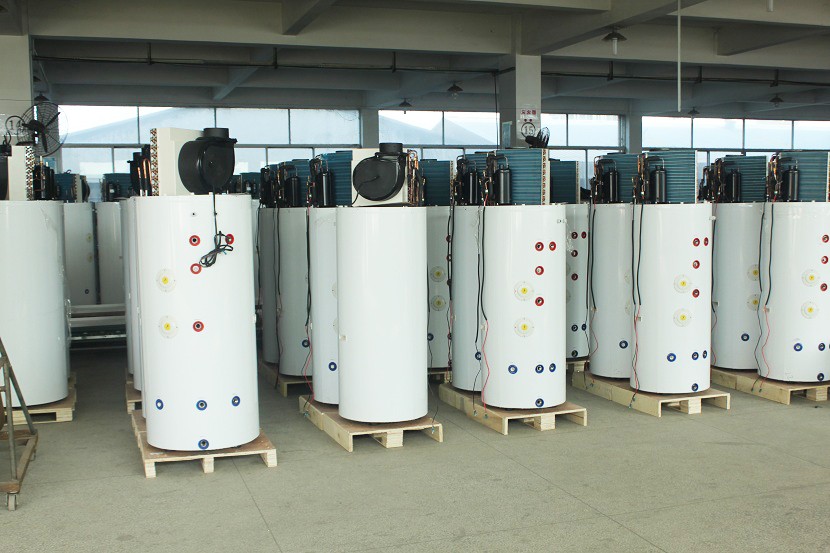 Specific procedure:
Compressor absorbs low temperature and low pressure refrigerant gas from the evaporator, then refrigerant compressed to high temperature and high pressure gas. The high temperature and high pressure gas goes into the condenser through fan to exchange heat with the air, and condensed into cryogenic liquid in the condenser and give off a lot of heat.
The air absorbs the heat and the temperature increasing. High pressure and low temperature liquid is throttled and depressurized through the expansion valve, absorbs heat from the surrounding air and volatilize into low pressure gas by fan in the evaporator, being compressed in the compressor, this repeated cycle, so as to continuously rise the water temperature.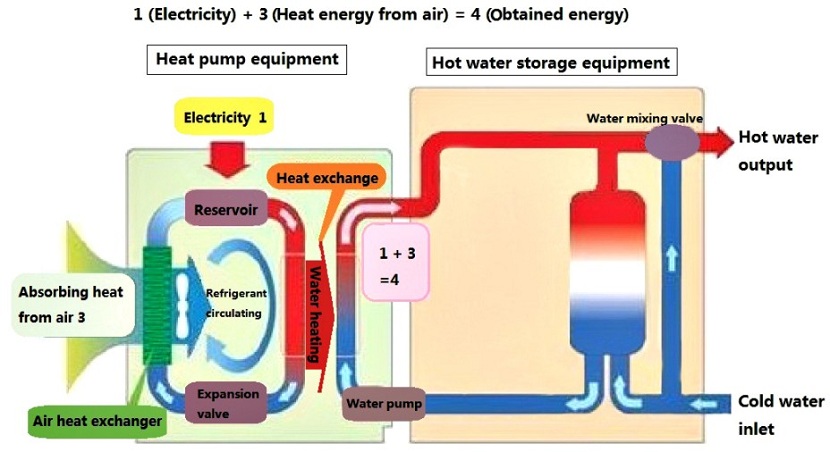 How to select water tank:
| | | |
| --- | --- | --- |
| | Power Input | User Needs |
| 100L | 600W | For 2-3 people |
| 150L | 600W | For 3-4 people |
| 200L | 600W | For 4-5 people |
| 250L | 850W | For 5-6 people |
| 300L or above | 850W or 1300W | More than 7people, or use bathtub |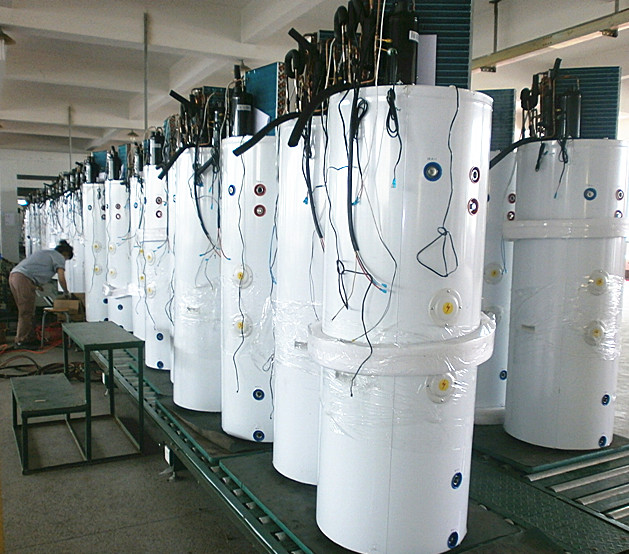 PRODUCTION PROCESS of HEAT PUMP
1. Base plates go online
2. Install compressors, condensers and evaporators
3. Assemble and weld copper pipes
4. Recharged with Nitrogen
5. Water-inspection (Check if exist in air leakage)
6. Discharge Nitrogen
7. Vacuum air-removed
8. Add refrigerant
9. Halogen inspection
10. Fix fan component
11. Install electrical control
12. Security checks (Insulation, Ground connection, Dielectric Strength test, Leakage)
13. Run commodity inspection (The noise of components and parts, Function, Timing, shutdown, current, Difference in temperature)
14. Stick nameplate and connection diagram
15. Document attached (Product Manuals, instructions)
16. Final inspection (Appearance parts)
17. Packing
18. Tape-out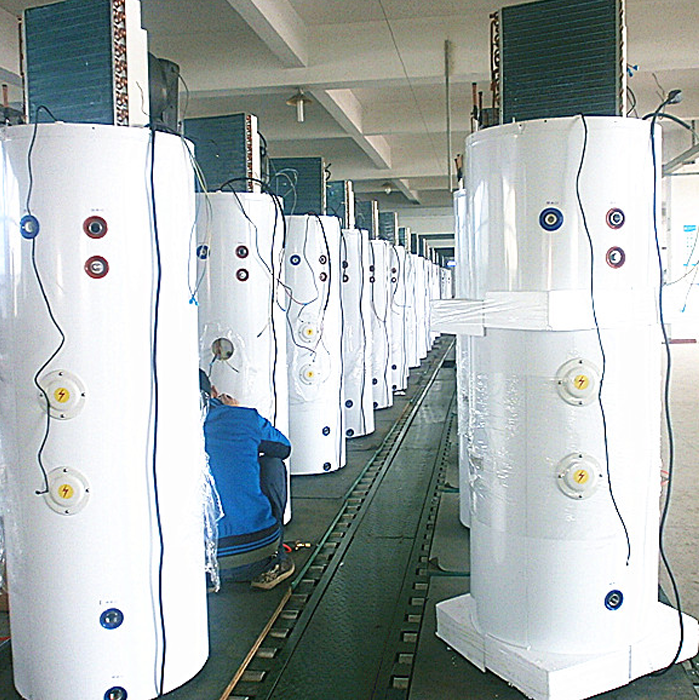 Get the latest price? We'll respond as soon as possible(within 12 hours)