Air To Water Heat Pump Floor Heating
Air To Water Heat Pump Floor Heating
Brand :AIM
Product origin :China
Delivery time :20 days
Supply capacity :8000 units/month
Product explanation:
Reverse cycle valve.
Base frame and extenal panels made of polyester powder coated steel or stainless steel.
High efficiency compressor with R410A refrigerant.
Extremely compact strcture, easy demountable for access.
Intelligent controller and adjustment by quickmind microprocessor with possibility or remote control.

Domestic and commercial heating
Economic & durable & stable running
Intelligent defrosting
American Copeland scroll compressor
Low noise & vibration
American Emerson expansion valve
Family and Commercial Air source Heat Pump water heater floor heating
| | | | |
| --- | --- | --- | --- |
| Model | | DKFXJT-11.2II/XG | LSQ-5HJ/XG |
| Horse power (HP) | | 3 | 5 |
| Heating capacity | kW | 7.84 | 12.88 |
| COP | | 2.80 | 2.80 |
| Rated power input | kW | 2.8 | 4.6 |
| Maximum power input | kW | 3.4 | 5.5 |
| Rated current | A | 4.8 | 8.5 |
| Maximum current output | A | 7 | 12 |
| Rated heated water output | L/h | 120 | 195 |
| Power supply | V/Hz/Ph | 380V/3N~/50Hz | 380V/3N~/50Hz |
| Compressor type | | Copeland Scroll | Copeland Scroll |
| Compressor model | | ZW34KAE | ZW61KAE |
| Number of Compressors | | 1 | 1 |
| Heat exchanger type | | High efficiency tube in shell heat exchanger | High efficiency tube in shell heat exchanger |
| Throttling device | | Emerson thermal expansion valve | Emerson thermal expansion valve |
| Fan type | | Low noise high effciency axial type | Low noise high effciency axial type |
| Fan discharging | | Vertical | Vertical |
| Fan quantity | | 1 | 1 |
| Fan input | W | 90 | 250 |
| Fan speed | RPM | 880 | 920 |
| Ambient temperature | ℃ | -10℃~43℃ | -10℃~43℃ |
| Rated / Max outlet water temp. | ℃ | 75 / 80 | 75 / 80 |
| Refrigerant | | R407C/410A/134a | R407C/410A/134a |
| Hot water circulation flow | m³/h | 6 | 10 |
| Water side pressure loss | kPa | 35 | 35 |
| Water flow pressure drop | Mpa | 0.01-0.02 | 0.01-0.02 |
| Suction/discharge max pressure | Mpa | 0.8 / 2.8 | 0.8 / 2.8 |
| Anti-electric shock class | | Class I | Class I |
| Unit protection class | | IPX4 | IPX4 |
| Noise in 1 meter distance | dB(A) | 58 | 59 |
| Water pipe size | inch | 1" | 1.5" |
| Cabinet | | Stainless steel / Steel with powder coated | Stainless steel / Steel with powder coated |
| High/Low pressure protection | | Yes | Yes |
| Automatic defrosting system | | Yes | Yes |
| Water flow switch | | No | No |
| Dimention | mm | 717x717x630 | 717x717x960 |
| Package Dimention | mm | 817x817x830 | 817x817x1160 |
| Net weight | kg | 88 | 125 |
| Gross weight | kg | 100 | 150 |
Testing condition: Ambient temp. (DB/WB):20℃/15℃, input/output water temp.15℃/75℃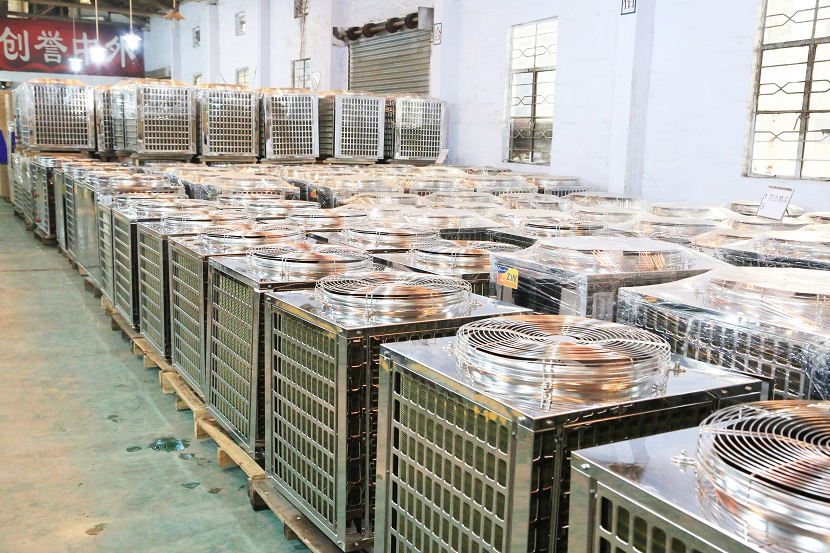 Heating: Air-cooled chiller uses fin type evaporator to extracts latent heat from the air and compresses it to amplify then the hot gas exchanges heat with water in the condenser, after refrigerant system give heat to water, the gas cooling down, through expansion valve and return to evaporator.
Ecological and economical heating
1) The efficient and economical alternative to both fossil fuel boilers and heating systems
2) By making use of the renewable source in the air, it consumes much less energy without direct CO2 emission

Multiple function
The special design of air inlet and outlet makes the unit with the ability for various ways of connections. With different ways of installation, the home heat pump unit can work as only a heat pump but also a fresh air blower, a dehumidifier, or an energy recovery equipment.
Compact design
AIM domestic hot water heat pump is specially designed for offering sanitary hot water for family use. Its extremely compact structure and elegant design are suitable for indoor installation.
Other features
1) Stainless steel tank keeps the clean water supply
2) High efficient compressor with green gas R410A/R134a
3) Electrical element available in the unit as back up, and assuring constant hot water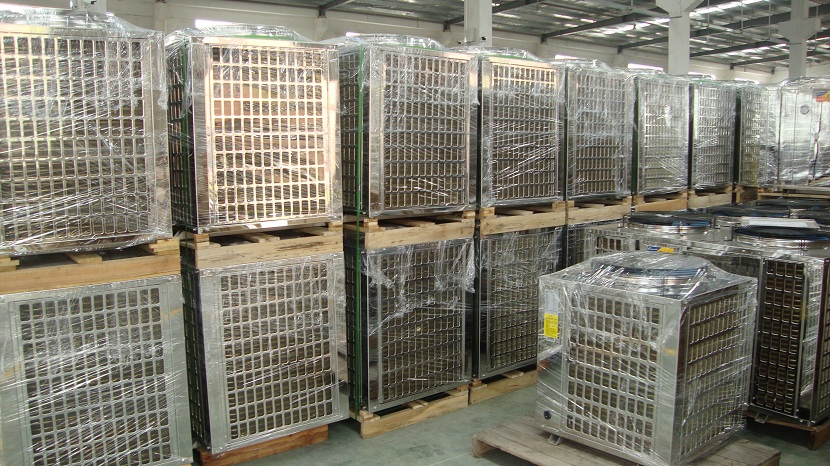 AIM is a professional heat pump manufacturer based in China. With over decades of experience in the HVAC industry, AIM has become one of the leading brands of quality heating, cooling & hot water system. Our main products include heat pump, air conditioner & water tank equipment.
Guangdong AIM Energy Saving Technology Co., Ltd. was founded in 2000 and have well experience in energy-saving products, which is one of biggest Stainless steel heat pump in China. We have developed whole series of heating system equipment & energy-saving products with 10 series and more than 50 kinds of products.
Our products range is as below:
Air to water heat pump.
Water to water heat pump.
Water to air heat pump.
Commercial air conditioner.
Fan coil units.
Besides Chinese market, export business is our main business. So most of our products are coming with international standard, some of our products have obtained international certificate, such as CE, RoHS, SAA certificate and ERP label etc, and our factory execute ISO9001:2008 strictly. We are always insists on the principle of quality first, customer first, and focus on high-quality, competitive cost & fastest services. So far, our products have entered over 50 countries and regions with either brand name AIM or OEM brand.

We are always on the look-out to build strategic partnerships in overseas markets and welcome opportunities where we can work in tandem with you and succeed together. OEM & ODM inquires are welcome.

Looking towards the future, AIM will build a fresh and quiet living environment and comfortable life for you.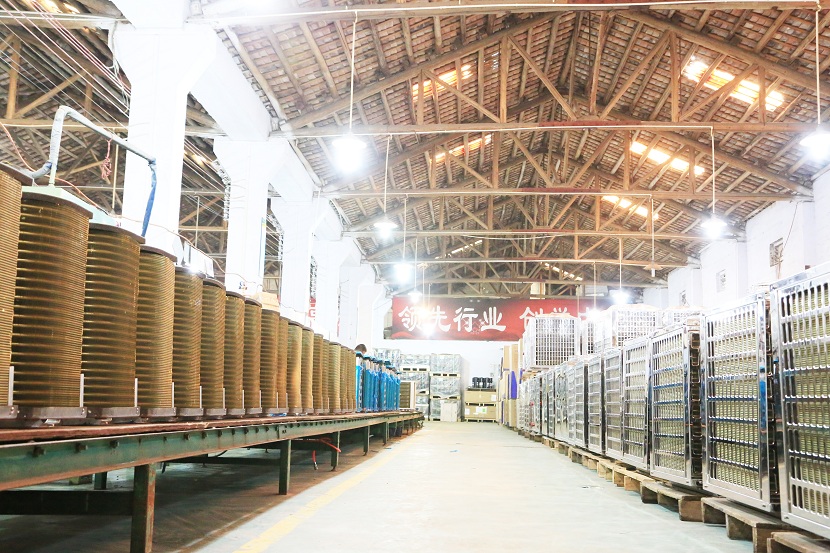 Get the latest price? We'll respond as soon as possible(within 12 hours)