Air To Water Inverter Heater
Air To Water Inverter Heater
Brand :AIM
Product origin :China
Delivery time :20days
Supply capacity :8000units/month
Three in one DC INVETER heat pump 

1> multi function heat pump ,all in one air boiler
2> cooling range capacity :10kW / 15kW /25kW /30kW
3> ( 5 working mode ) Heating + DHW / Cooling + DHW / DHW / Heating / Cooling 
4> MITSUBISHI motor DC  Inverter Compressor
5> SHIBAURA DC Inverter Motor ,very quiet , very low noise
6> Sweden plate heat exchanger
7> HITACHI DC inverter controller,
8> Combine split design with DC inverter heat pump to get high SCOP
9> Power supply : 220V~240V/ 1PH / 50Hz ~60Hz
10> Monobloc vertical design 
11> Working ambient outside temperature : -20ºC~45ºC  
12> Outlet water temp. range :  
Heating (30ºC~55ºC ) + Cooling (25ºC ~5ºC) + DHW ( 55ºC )
13> refrigerant R410a
14> when running cooling mode, so get the DHW hot water is totally 100% free fee, It is free from the heat recovery

New style DC INVETER air heat pump
1> DC INVETER heat pump air boiler
2> cooling capacity : 8kw/10kw/12kw/15kw
3> Advanced DC inverter variable speed technology combine the compressor + fan motor + controller PCB
4> make the ambient -15ºC temp. heating capacity nearly '' 0 " loss
5> MITSUBISHI motor DC Inverter Compressor
6> SHIBAURA DC Inverter Motor
7> Sweden plate heat exchanger
8> HITACHI DC inverter controller,
9> Combine split design with DC inverter heat pump to get high SCOP
10> with CE LVD EMC certificate , as EN14825 test Erp energy level A+ when outlet is 35ºC hot water
11> Power supply : 220V~240V/ 1PH / 50Hz ~60Hz
12> Monobloc vertical / Split size for choose
13> Working ambient: -25ºC~45ºC
14> Outlet water temp. range : Heating (30ºC~50ºC ) + Cooling (25ºC ~5ºC)
15> refrigerant R410a
16> combine home using underfloor heating , fan coil heating /cooling , home HVAC system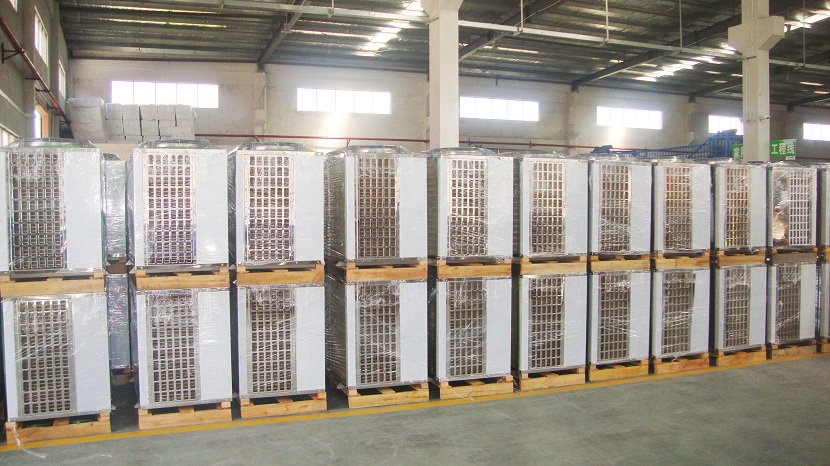 Model
JT5.0BD/BC
JT6.0BD/BC
JT10BD/BC
JT12BD/BC
Heating capacity
5.29-13.4kW
6.55-16.3kW
12.5-32kW(27kW)
33(15-38)
Cooling capacity
5.3-16kW
8.1-20.2kW
11-32kW(25kW)
30(13-38)
Heating power input
2.52-6.4kW
3.12-7.8kW
3-12kW(7.8kW)
9.7(3.6-15)
Cooling power input
2.52-6.4kW
3.12-7.8kW
3-12.2kW(7.6kW)
9.4(3.6-15)
Heating integrated part load value(IPLV(H))
2.4
2.4
2.7-4.6 (3.5)
3.4(2.7-4.5)
Cooling integrated part load value(IPLV(C))
2.7
2.6
2.2-4.2 (3.3)
3.2(2.2-4.2)
Heating current input
24A
28A
15A
17A
Cooling current input
25A
30A
16A
18A
Max current input
38A
42A
20.5A
23.4A
Power supply
220V/1Ph/50Hz
220V/1Ph/50Hz
380V/3Ph/50,60Hz
380V/3Ph/50,60Hz
Refrigerant / Charge
R410A / 4.5kg
R410A / 5.5kg
R410A
R410A
Heating water outlet temp range
30~60℃
30~60℃
30~60℃
30~50℃
Cooling water outlet temp range
5~15℃
5~15℃
5~20℃
5~20℃
Max pressure of suction / discharge
0.8 / 4.2Mpa
0.8 / 4.2Mpa
0.8 / 4.2Mpa
0.8 / 4.2Mpa
Pipe diameter
1''
1''
DN32
DN32
Rated hot water output
400L/H
480L/H


670
Water flow
920~2750L/H
1400~3500L/H


10m³
Water side pressure loss
≤45Kpa
≤35Kpa
≤46Kpa
≤45Kpa
Water flow pressure drop
0.01-0.02 Mpa
0.01-0.02 Mpa
0.01-0.02 Mpa
0.01-0.02 Mpa
Running noise dB(A)
≤63
≤63
≤62
≤65
Protection / Anti-electric shock rate
IPX4 / Class I
IPX4 / Class I
IPX4 / Class I
IPX4/ Class I
Running ambient temp.
-25~+43℃
-25~+43℃
-25~+43℃
-25℃ (-35℃)~+43℃
Net weight
135kg
148kg
290kg
310kg
Top type dimension (LxWxH)
1300×650×920(mm)
1300×650×1020(mm)


1300x780x1840(mm)
Side type dimension (LxWxH)
1250x450x1435=0.81m³
1300x780x1840=1.87m³


Test condition: Carried Standard: GB/T 25127.2-2010
Heating mode: Water flow 0.172m³/(hkW), hot water outlet temp. 41℃, ambiemt temp. -12℃
Cooling mode: Water flow 0.172m³/(hkW), cold water outlet temp. 7℃, ambiemt temp. 35℃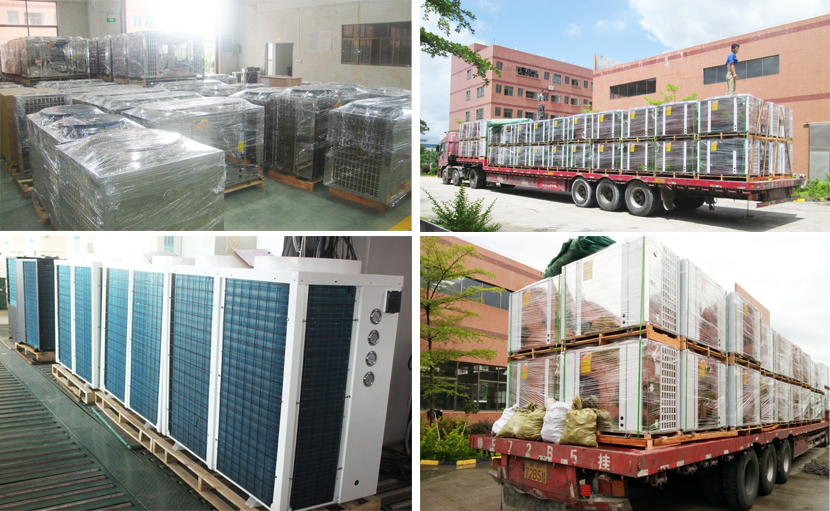 DC INVETER heat pump air boiler 8kw/10kw/12kw/15kw
Advanced DC inveter variable speed technology
to sure the ambient -15ºC temp. heating capacity '' 0 " loss
MITSUBISHI motor DC Inverter Compressor
SHIBAURA DC Inverter Motor
Sweden ALFA LAVAL plate heat exchanger
HITACHI DC inverter controller,
refrigerant R410a
Combine split design with DC inverter heat pump to get high SCOP
Power supply : 150V~240V/ 1PH / 50Hz ~60Hz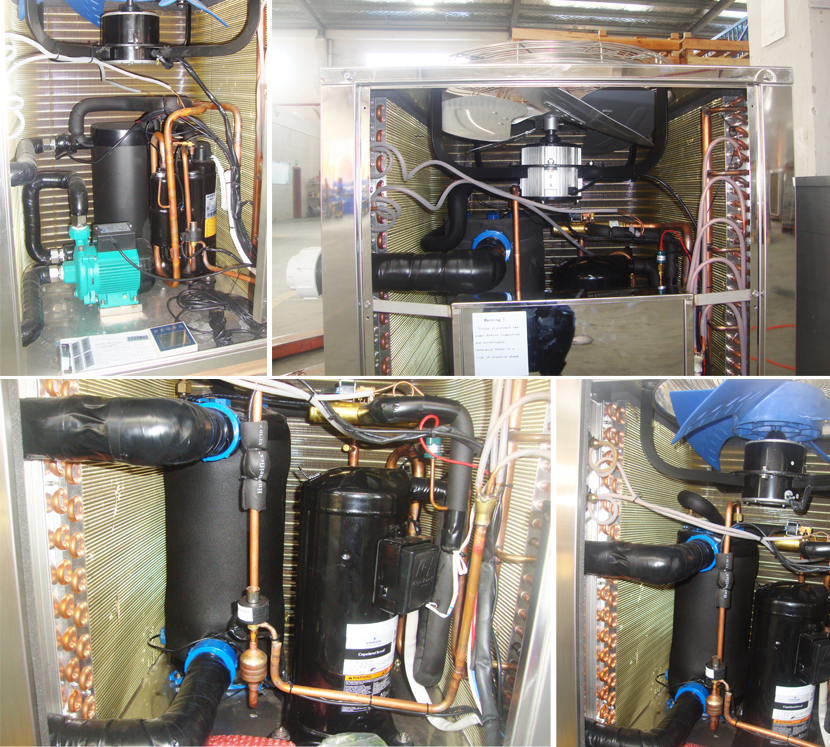 Best Services:
1) OEM/ODM service is available.
2) Produce heat pump according to ISO items , design following customer's special demands, test as Europe EN14511 standard.
3) Supply 1~2% free spare parts according to order quantity.
4) General testing and operational test carried out for every unit before delivery.
5) 18 month whole unit warranty period. Using life free technical support forever.
6) 24 hours technical services online.
7) Return or change goods within 2 months.
8) Video teach how to install, how to maintain.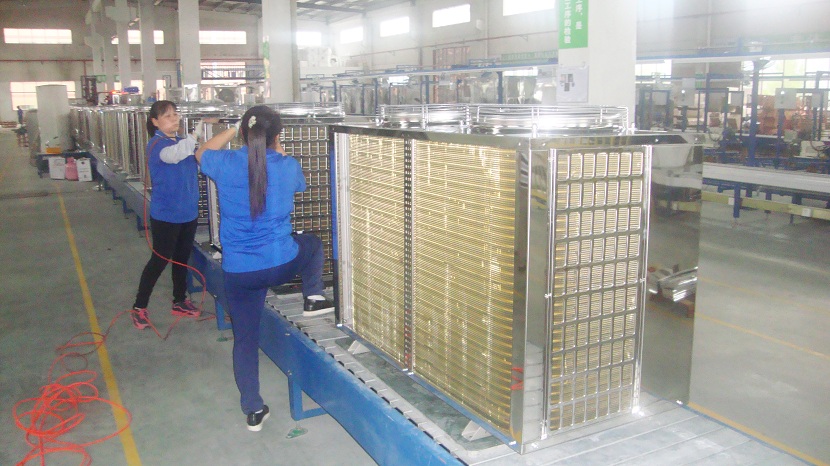 AIM is an professional manufacturer focus on researching, production, service of air source heat pump, ground water source heat pump and solar air conditioner.
AIM has got the CE,CB,EN14511 certificate from TUV Lab, and also passed the Australia and New Zealand JAS-ANZ certificate, got ISO9001. ISO18001, ISO14001 and CCC certificate. Now applying European ErP Certificate from TUV lab. Currently the products has been exported to Western Europe, North Europe, South Africa, Middle-East, South American and Australia market.
AIM builded new 75,000 Watts multi-function Enthalpy Difference Laboratory In 2012 year, this lab using to strictly control qulity.
AIM company offer OEM , ODM co-operation for worldwild business partner , welcome join ours team.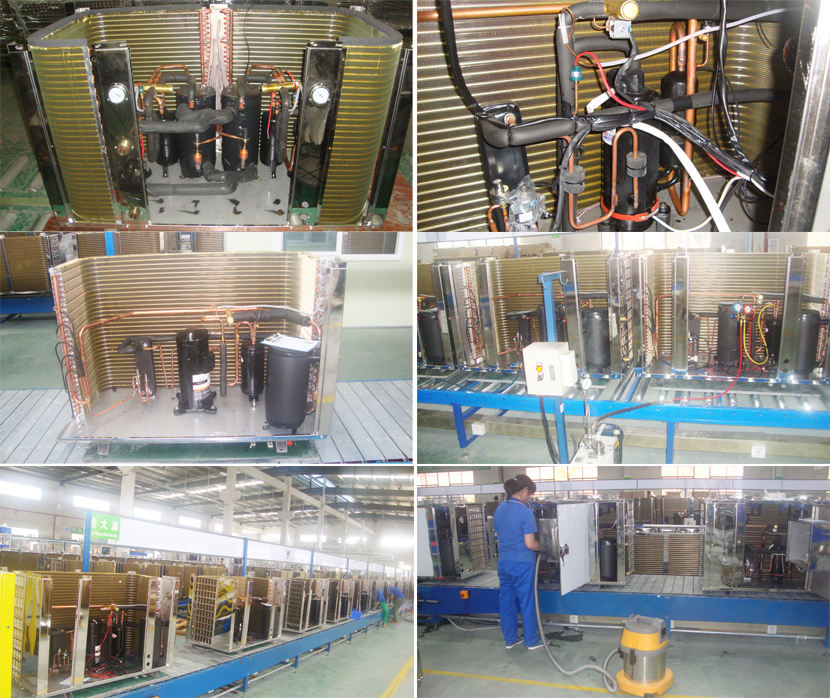 Quality control- QC:
1> Complying with ISO standard. Quality Ensured.
2> Using world famous Compressor,i.e. COPLAND, PANASONIC,MITSUBISHI,HITACHI, SANYO
3> Complete Inspection covering water system and electricity, ensuring stable hot water production.
4> Equipped with high efficiency tube in shell heat exchanger, finned heat exchanger or plate heat exchanger.All structure pipe and compressor with insulation to prevent heat loss.
5> Evaporator using surface modification of hydrophilic aluminous foil.
6> Electric Expansion valve with accurate flow control and gas distribution.
7> LCD display control panel. Intellectual control over water pump, water supplement, water discharge and defrosting system.
8> Raw material test, produce online test, half-structure test, water cycle test, Lab test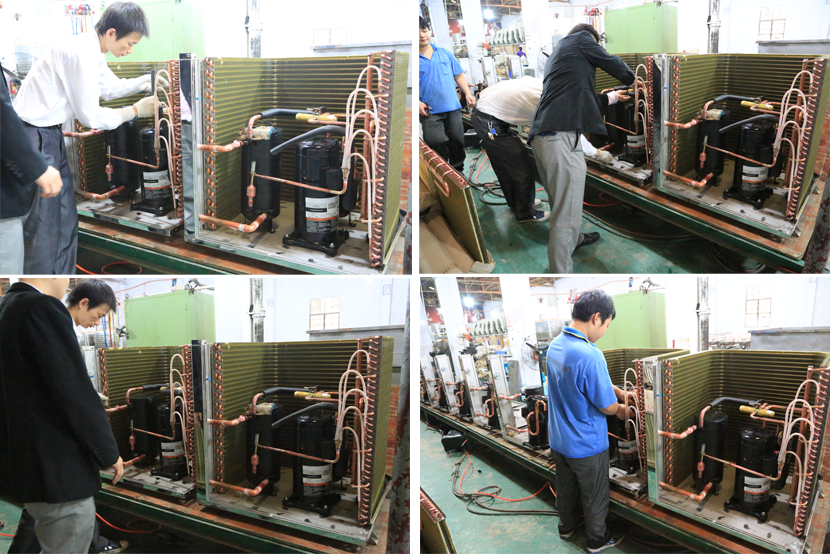 Working Principle:
Compressor gets the low temperature and low pressure air refrigerant from evaporator,
then turn it into high temperature and high pressure air,
this air gets into the condenser to exchange the heat with water,
then the condensed air become low temperature fluid and release lots of heat energy.
Water gets this heat energy and become hotter and hotter.
This high pressure and low temperature fluid become low pressure by the primary flow meter device.
This low pressure and low temperature fluid, gets into the evaporator, Under the function of rotation fan, heat energy from air is absorbed by the fluid and becomes low pressure refrigerant,
then is absorbed by compressor, recycling to produce the hot water.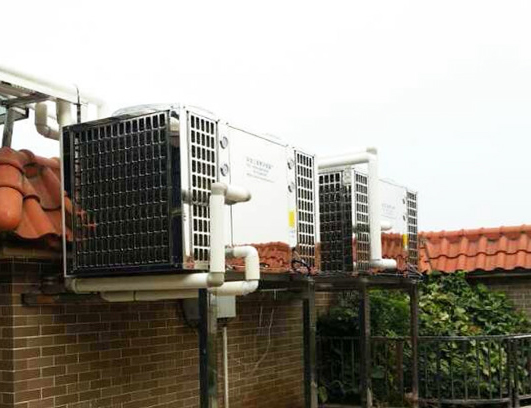 How to select water tank:
| | | |
| --- | --- | --- |
| Volume | Power Input | User Needs |
| 100L | 600W | For 2-3 people |
| 150L | 600W | For 3-4 people |
| 200L | 600W | For 4-5 people |
| 250L | 850W | For 5-6 people |
| 300L or above | 850W or 1300W | More than 7people, or use bathtub |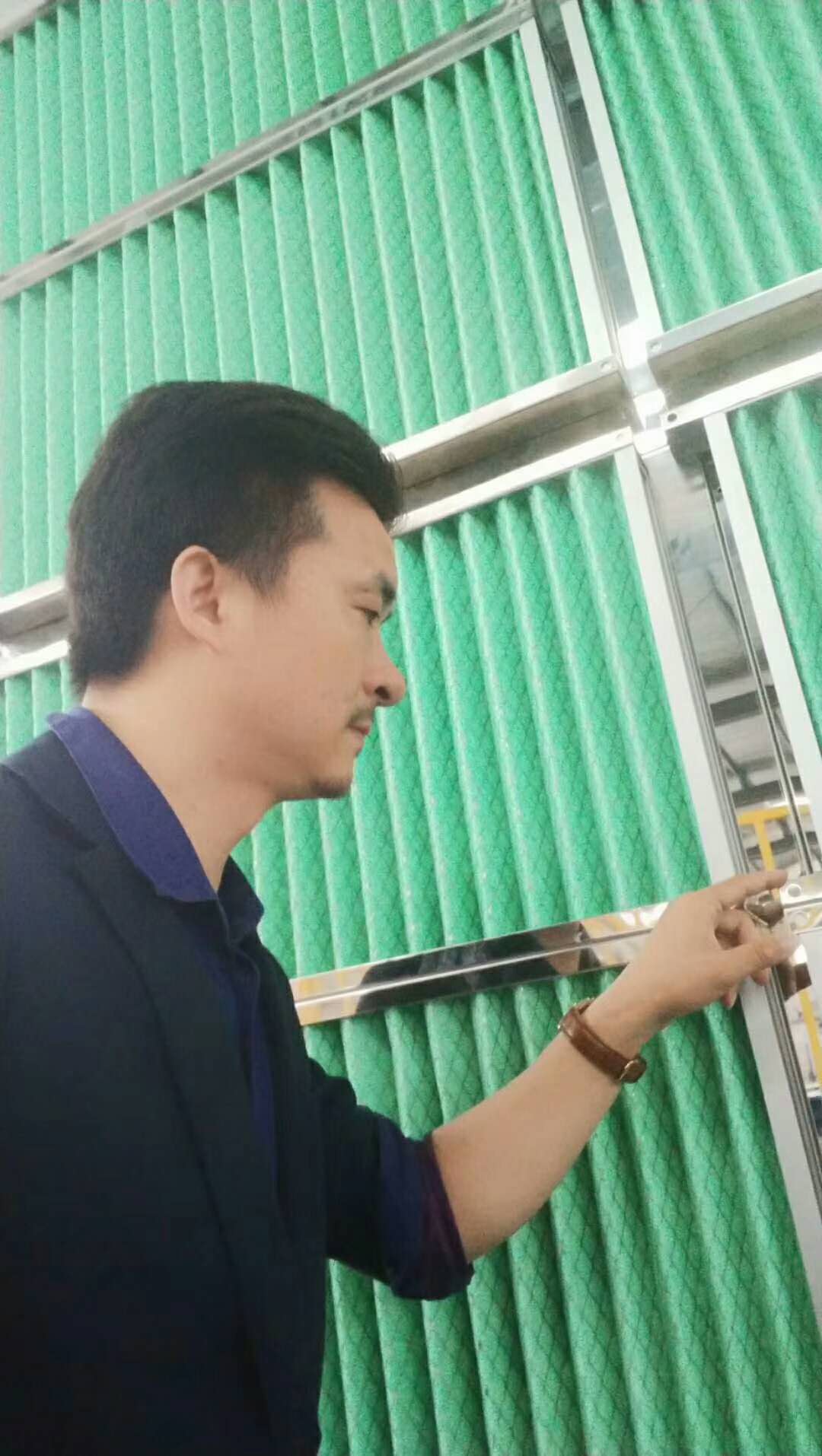 Get the latest price? We'll respond as soon as possible(within 12 hours)