Commercial And Residential Heating And Cooling
Commercial And Residential Heating And Cooling
Brand :AIM
Product origin :China
Delivery time :20 days after payment
Supply capacity :5000units/month
Unique Feature:
Copeland scroll compressor
Stainless steel brazing plate heat exchanger
Automatic defrosting
Super intelligence
Stable running, safe & reliable
No need install cooling tower, easy to install, mobile and convenient, suitable for lack of water place and lack of space.
Low noise fan motor, excellent cooling condensation effect, stabilize the throttle body, excellent anti-rust processing.
Using water as heat transfer medium, the outlet air temperature is much gentler.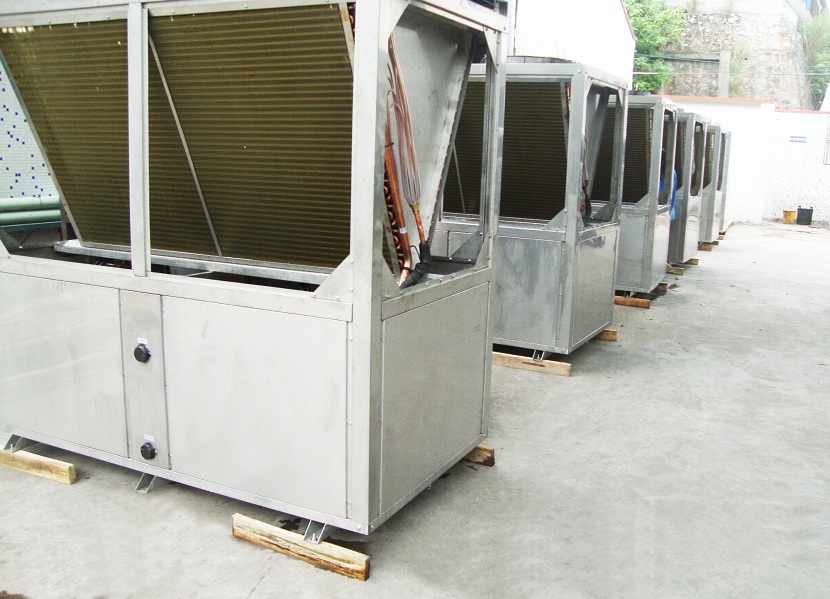 Air cooled Chiller Air source Stainless steel Modular heat pump
The heat pumps are splendid for domestic and commercial central heating and cooling connect with fan coil units, radiators, boilers, solar panels.
Cooling: Air-cooled chiller uses shell and tube evaporator to have water heat exchange with the refrigerant, refrigerant system absorption heat from water, the water cooling down, through the role of the compressor and bring heat to condenser, and then through cooling fan to outside.

Heating: Air-cooled chiller uses fin type evaporator to extracts latent heat from the air and compresses it to amplify then the hot gas exchanges heat with water in the condenser, after refrigerant system give heat to water, the gas cooling down, through expansion valve and return to evaporator.

Product Specifications
Model
DKFXJT-3.0-11.2I/FR
LSQ-5HJ/FR
JT-20II/FR
JT-28II/FR
JT-45II/FR
JT-50II/FR
JT-65II/FL
JT-75II/FL
JT-110II/FL
JT-130II/FL
JT-160II/FL
Horse power (HP)
3
5
6
10
12
20
25
30
40
50
60
Heating capacity (kW)
8
14.7
19.8
27.5
40
56
71
76
112
145
175
Cooling capacity (kW)
7.5
12.5
18
25
37.8
50
64.5
70
98.5
132
160
Heating power input (kW)
2.4
4.2
6.2
8.6
12.5
16.6
20
24
34
43
50
Cooling power input (kW)
2.5
4.6
6.5
8.8
13.5
17.6
23
25
35.2
46
52
Heating COP
3.33
3.50
3.19
3.20
3.20
3.37
3.55
3.17
3.29
3.37
3.50
Cooling EER
3.00
2.72
2.77
2.84
2.80
2.84
2.80
2.80
2.80
2.87
3.08
Heating current input (A)
15
8.6
11
17
22
30
40
50
60
78
92
Cooling current input
16
9.2
12
18
24
32
44
53
64
80
96
Max current input
18
10.32
13.2
20.4
26.4
36
48
60
72
93.6
110.4
Power supply (V/Ph/Hz)
220/1/50
380/3/50
380/3/50
380/3/50
380/3/50
380/3/50
380/3/50
380/3/50
380/3/50
380/3/50
380/3/50
Refrigerant / Charge(kg)
R22 or R410A /2.2
R22,R410A /4
R22,R410A /4.5
R22,R410A/4*2
R410A / 4.5*2
R410A / 7.5*2
R410A / 9*2
R410A / 11*2
R410A / 7.5*4
R410A / 9.6*4
R410A / 8.8*6
Compressor No. (pcs)
1
1
1
2
2
2
2
2
4
4
6
Compressor type
Scroll
Scroll
Scroll
Scroll
Scroll
Scroll
Scroll
Scroll
Scroll
Scroll
Scroll

Heating water

outlet temp range

40/45℃
20
40/45℃
40/45℃
40/45℃
40/45℃
40/45℃
40/45℃
40/45℃
40/45℃
40/45℃

Cooling water

outlet temp range

7/12℃
7/12℃
7/12℃
7/12℃
7/12℃
7/12℃
7/12℃
7/12℃
7/12℃
7/12℃
7/12℃
Pipe diameter
1"
1.5"
1.5''
1.5"
1.5"
2"
2"
3"
3"
4"
4"
Water flow (m³/h)
3
5
6
10
15
20
25
35
40
50
60
Water side pressure loss
35Kpa
35Kpa
35Kpa
35Kpa
35Kpa
35Kpa
35Kpa
35Kpa
35Kpa
35Kpa
35Kpa
Water flow pressure drop
0.01-0.02 Mpa
0.01-0.02 Mpa
0.01-0.02 Mpa
0.01-0.02 Mpa
0.01-0.02 Mpa
0.01-0.02 Mpa
0.01-0.02 Mpa
0.01-0.02 Mpa
0.01-0.02 Mpa
0.01-0.02 Mpa
0.01-0.02 Mpa

Max pressure of

suction / discharge

0.8 / 2.8Mpa
0.8 / 2.8Mpa
0.8 / 2.8Mpa
0.8 / 2.8Mpa
0.8 / 2.8Mpa
0.8 / 2.8Mpa
0.8 / 2.8Mpa
0.8 / 2.8Mpa
0.8 / 2.8Mpa
0.8 / 2.8Mpa
0.8 / 2.8Mpa
Running noise dB(A)
66
68
≤68
≤68
≤68
≤72
≤72
≤74
≤74
≤74
≤74
Protection / Anti-electric shock rate
IPX4 / Class I
IPX4 / Class I
IPX4 / Class I
IPX4 / Class I
IPX4 / Class I
IPX4 / Class I
IPX4 / Class I
IPX4 / Class I
IPX4 / Class I
IPX4 / Class I
IPX4 / Class I
Running ambient temp.
-10~+43℃
-10~+43℃
-10~+43℃
-10~+43℃
-10~+43℃
-10~+43℃
-10~+43℃
-10~+43℃
-10~+43℃
-10~+43℃
-10~+43℃
Net weight (kg)
88
125
138
230
300
500
680
800
800
1350
1650

Top type

dimension (LxWxH)

717x717x860

=0.44m³

717x717x960

=0.49m³

805x805x960

=0.62m³

1424x1424x960

=1.95m³

1600x1600x960

=2.46m³

2000x1100x1980

=3.96m³

2000x1100x1980

=3.96m³

2000x1680x1980

=6.65m³

2000x1800x1980

=7.13m³

2000x1800x1980

=7.13m³

3000x2000x1980

=11.88m³
Production process of heat pump
1. Base plates go online
2. Install compressors, condensers and evaporators
3. Assemble and weld copper pipes
4. Recharged with Nitrogen
5. Water-inspection (Check if exist in air leakage)
6. Discharge Nitrogen
7. Vacuum air-removed
8. Add refrigerant
9. Halogen inspection
10. Fix fan component
11. Install electrical control
12. Security checks (Insulation, Ground connection, Dielectric Strength test, Leakage)
13. Run commodity inspection (The noise of components and parts, Function, Timing, shutdown, current, Difference in temperature)
14. Stick nameplate and connection diagram
15. Document attached (Product Manuals, instructions)
16. Final inspection (Appearance parts)
17. Packing
18. Tape-out
Get the latest price? We'll respond as soon as possible(within 12 hours)