Domestic Hot Water Heater
Domestic Hot Water Heater
Brand :AIM
Product origin :China
Delivery time :20days
Supply capacity :5000units/month
Working principle:
Compressor absorbs low temperature and low pressure refrigerant gas from the evaporator, then refrigerant compressed to high temperature and high pressure gas. The high temperature and high pressure gas goes into the condenser through fan to exchange heat with the air, and condensed into cryogenic liquid in the condenser and give off a lot of heat.
The air absorbs the heat and the temperature increasing. High pressure and low temperature liquid is throttled and depressurized through the expansion valve, absorbs heat from the surrounding air and volatilize into low pressure gas by fan in the evaporator, being compressed in the compressor, this repeated cycle, so as to continuously rise the water temperature.


Description:
It can supply hot water for domestic, life, bath.
Features:
Domestic hot water at any time
Economic & durable & stable running
Intelligent defrosting
Famous brand rotaty compressor
Low noise & vibration
Energy saving >75%
Water cycle type
Metal case, SUS 304 Stainless steel case
Energy saving Stainless steel domestic Air source heat pump water heater R410A hot water
Model No.
DKXJT1.0-3.44I
DKXJT1.5-4.8I
DKXJT2.0-6.4I
DKXJT3.0-11.2I
Rated heating capacity (kw)
3.44
4.8
6.4
11.6
Rated input power (kw)
0.86
1.2
1.6
2.5
COP


4
4
4
4.64
Maximum power input (kw)
1.2
1.7
2.1
3.36
Rated current input (A)
4.2
5.8
8.6
4.87
Maximum current output (A)
6
9
11
7
Power line (copper wire) 220V/50Hz/1Ph
1.5m²
2.5m²
2.5m²
4.0m²
Refrigerant / Charge (kg)


R407C / 1.1
R407C / 1.2
R407C / 1.6
R407C / 2
Working temperature
-10℃-43℃
-10℃-43℃
-10℃-43℃
-10℃-43℃
Rated / Max outlet water temp. (℃)
55 / 60
55 / 60
55 / 60
55 / 60
Water system
Water output (L/H)
70
105
150
230
Water flow (m³/h)
2
2.5
2.8
3
Water pipe (mm)
DN25
DN25
DN25
DN25
Hot water circulation pressure drop
kPa
45
45
45
45
Unit protection class
IP
IPX4
IPX4
IPX4
IPX4
Water side pressure loss
Kpa
45
45
45
45
Water flow pressure drop
Mpa
0.01-0.02
0.01-0.02
0.01-0.02
0.01-0.02
Anti-electric shock class


Class I
Class I
Class I
Class I
Max pressure of suction / discharge
Mpa
0.8 / 3.0
0.8 / 3.0
0.8 / 3.0
0.8 / 3.0
Nosie dB (A)
≤52
≤52
≤53
≤55
Product dimension (left-right)
LxWxH(mm)
860x320x540
860x320x540
860x320x540
750x430x1210
Product dimension (up-down)
LxWxH(mm)
650x269x970
650x269x970
650x269x970
750×380×970
Net Weight (left-right)
kg
30
36
63
103
Net Weight (up-down)
kg
35
43
68
118
Test condition: Water flow 0.172m³/(hkW), initial temp 15℃, terminated temp 55℃. Ambient temp DB/WB 20/15℃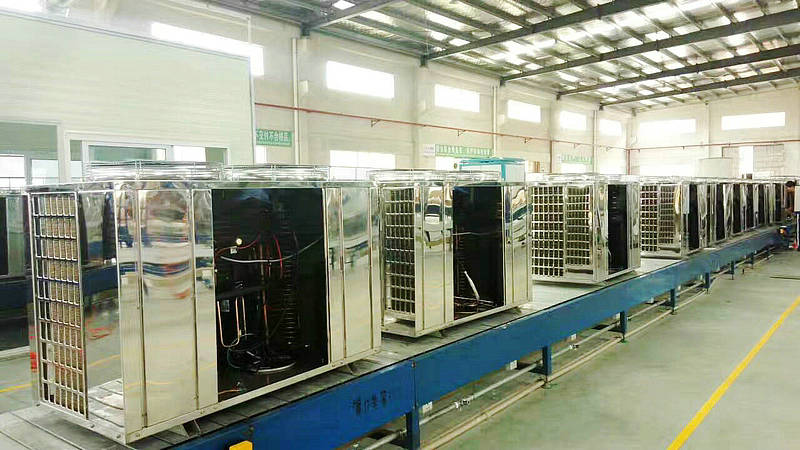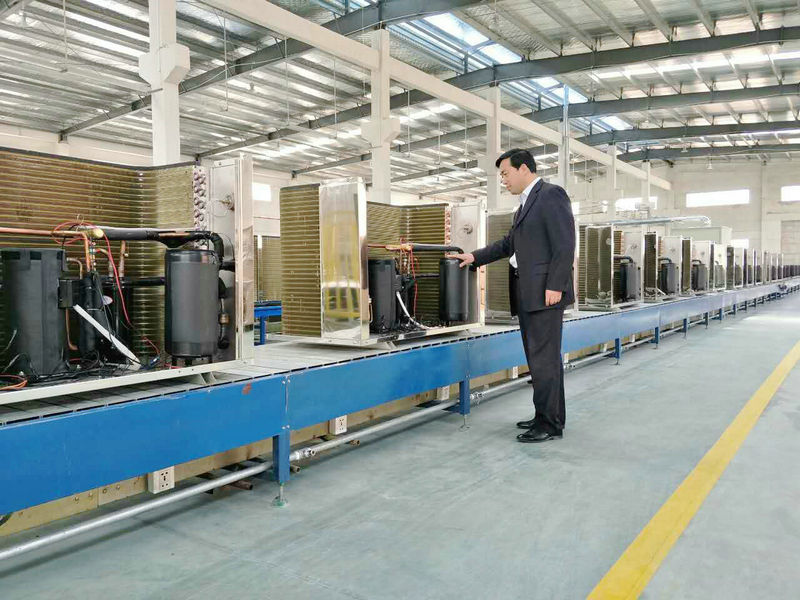 Air and water source heat pumps Main components and Effect:
1. Compressor: Famous Brand Panasonic, Sanyo, Mitsubishi,Toshiba Rotary Compressor or Sanyo, Copeland, DAIKIN Scroll Compressor with environmentally friendly Refrigerant gas R407C/R410A/R134a/R417A
Effect: Compress and transport cycle fluid from low temperature low pressure to high temperature high pressure, it's the heart of heat pump system.
2. Evaporator or heat exchanger: Hydrophilic aluminum foil Finned tube Heat Exchanger.
Effect: It's the cooling output facility. Evaporate the refrigerant liquid which flowing through the expansion valve to absorb the heat from the cooled object, so achieve the purpose of cooling.
3. Condenser: Coil type, plate type, casing type, High efficiency tube in shell heat ex-changer or Titanium heat ex-changer.
Effect: It's the heating output facility. Heat absorbed from the evaporator with the converted heat by compressor power consumption is carried away by cooled medium in the condenser, to achieve the purpose of heating.
4. House casing: anti corrosion and rustproof Stainless steel or Spray coating metal plate for whole set of casing, Buttress and frame system, Electric Control Box etc.5. Microprocessor automatic Controller sets: LCD touch screen Wifi Display, Neatly wiring PCB Board in individual controller box, Whole sets of temp sensors, Capacitors, Transformer.
6. Copper Pipes: throttling device, pipes connect all system, compressor, heat ex-changer, EEV and so on sub-assembly.  
7. Thermostatic expansion valve or Japanese Sanhua Electronic Expansion valve and 4-Way Valve
EEV Effect: For circulating fluid Throttling depressurization and adjust the flow of cycle fluid into the evaporator.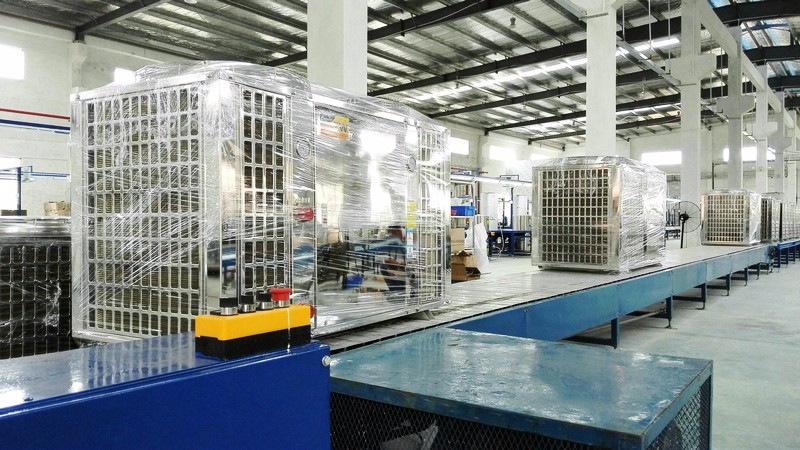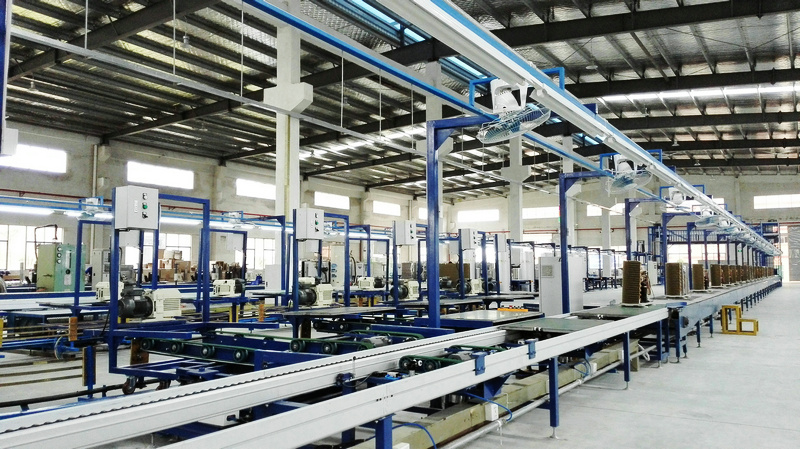 Main quality control project list:
1. Check all parts before assembling.
2. Charge nitrogen to test leakage and pressure maintaining after welding system.
3. Vacuumize, the vacuum pressure ≤30Pa
4. Leakage detection by halogen after charge refrigerant.
5. Safety testing: High-voltage insulation test and ground resistance.
6. Operation testing, record refrigerant pressure, temp. etc.
7. Inspect inside unit's cleanliness and appearance.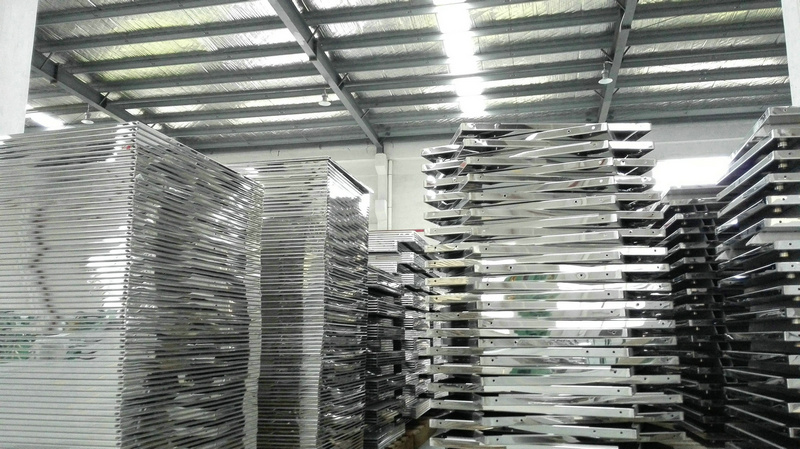 How to select water tank:
| | | |
| --- | --- | --- |
| Volume | Power Input | User Needs |
| 100L | 600W | For 2-3 people |
| 150L | 600W | For 3-4 people |
| 200L | 600W | For 4-5 people |
| 250L | 850W | For 5-6 people |
| 300L or above | 850W or 1300W | More than 7people, or use bathtub |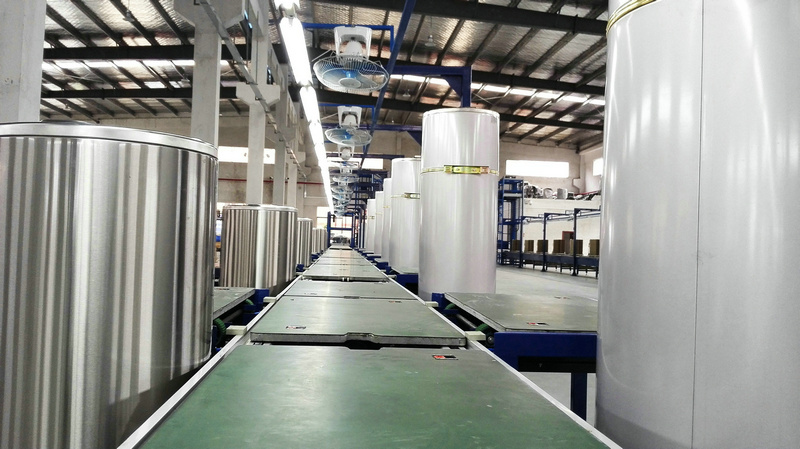 AIM is a high-tech new energy and high efficient factory built in 2011 year occupied more than 40,000m² area, concentrates on researching and developing stainless steel air source, water and ground source, central air-conditioner, water tank etc, is one of the top companies which has a complete product chain.
As a Drafting Committee of Multifunctional air source heat pump, AIM has dozens of core intellectual property rights of the patented technology, has been rated as the national high-tech new energy enterprise, industry outstanding and top besting-selling famous brand, successfully listed in Equity Exchange Co., Ltd in 2016 (Stock Code: 220079)
AIM has a strict standard of inspecting for product quality, a completely production management control system. Gained the certificates of ISO9001, ISO14001, CCC, CE, TUV, Industrial production license and so on.
Ideal life, made life comfortable, starting from AIM.
AIM's main heat pump series:
1. Split domestic hot water heat pump,
2. All in one hot water heat pump,
3. Swimming pool heat pump,
4. Commercial hot water heat pump,
5. EVI air source heat pump,
6. Instant hot water heat pump,
7. High temp heat pump,
8. Dryer air to water heat pump,
9. Chiller heating and cooling air conditioner;
10. DC inverter air to water heat pump,
11. Multifunctional air source heat pump,
12. Water to water heat pump,
13. Water tank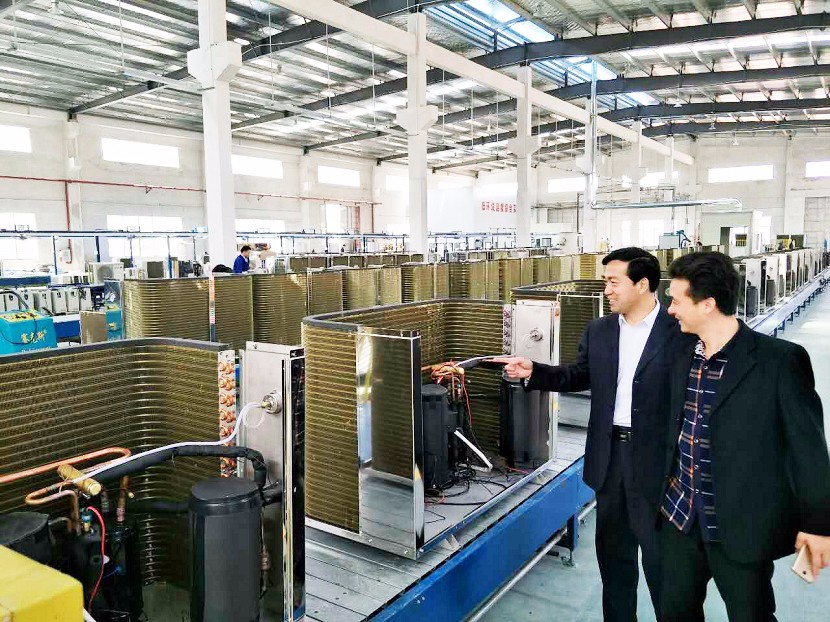 Get the latest price? We'll respond as soon as possible(within 12 hours)