Ground Source Heating Solution
Ground Source Heating Solution
Brand :AIM
Product origin :China
Delivery time :20days
Supply capacity :8000units/month
Production explanation:
High efficiency compressor with R410A refrigerant;
Reverse cycle valve;
Base frame and external panels made of polyester powder coated steel;
Extremely compact structure, lock door design, easy demountable for access;
Super heater for sanitary hot water;
Intelligent controller and adjustment by quick-mind microprocessor with possibility or remote control;
Careful protection functions such as: high pressure, low pressure, overload, over heating, phase order, antifreezing, discharge temp, etc;

Water side equipped with efficient tube in tube heat exchanger;
Thermostatic expansion valve;
Water flow switch for water flow protection;
General testing and operational test carried out for every unit before package in the factory.
Water to water heat pump domestic, sanitary bath hot water geothermal heater 6-200kw
Model


JT-10I/WFR
JT-13I/WFR
JT-18I/WFR
JT-20II/WFR
JT-25II/WFR
JT-30II/WFR
Heating
Capacity
kW
10
13
18
20.6
27.8
38.7
Power input
kW
2.1
2.65
4.5
4.49
6.18
8.8
COP
W/W
4.76
4.91
4
4.6
4.5
4.40
Cooling
Capacity
kw
8
10.4
14.3
16.48
22.24
29
Power input
kw
2.58
3.47
4.47
4.99
6.35
6.73
EER
W/W
3.1
3
3.2
3.3
3.5
4.31
Max. Power input


kW
2.84
3.58
6.08
6.06
8.34
10.12
Power supply


V/N/Hz
220-240/1/50
220-240/1/50
220-240/1/50
380-415/3/50
380-415/3/50
380-415/3/50
Rated current


A
10.6
13.2
25
6.8
8.65
20
Max. current


A
14.31
17.82
33.75
9.18
11.68
23
Max. water-out temp.


℃
60
60
60
60
60
60
Cold water temp.


℃
7/12℃
7/12℃
7/12℃
7/12℃
7/12℃
7/12℃
Hot water output


L/H
250
280
430
465
594
865
Cooling water


L/H
1376
1789
2460
2835
3825
6200
Domestic water flow


m³/h
1.7
2.2
3.5
3.75
4.6
6.75
Ground water flow


m³/h
1.5
2
3.5
3.5
5.8
5.46
Refrigerant type




R134a / R407C / R410A
R134a / R407C / R410A
R134a / R407C / R410A
R134a / R407C / R410A
R134a / R407C / R410A
R134a / R407C / R410A
Compressor type




Mitsubishi
Mitsubishi
Mitsubishi
Copeland Scroll
Copeland Scroll
Copeland Scroll
Heat exchangers




Tube shell or double-pipe heat exchanger
Tube shell or double-pipe heat exchanger
Tube shell or double-pipe heat exchanger
Tube shell or double-pipe heat exchanger


Tube shell or double-pipe heat exchanger
Connection pipe


inch
1
1
1
1
1
1.5''
Net Dimensions(HxWxD)


mm
652x582x735
652x582x735
800x900x800
800x900x800
1080x800x900
1430x750x960
Net / Gross weight


kg
82/91
87/95.6
150/175
150/175
166/188
230/250
Noise level


dB(A)
48
48
53
53
58
60
Unit protection class


IP
IPX4
IPX4
IPX4
IPX4
IPX4
IPX4
NOTES:
Capacities and power inputs based on the following conditions:
- Heating: Water source inlet temperature 15℃; Water temp. from 15℃ to 55℃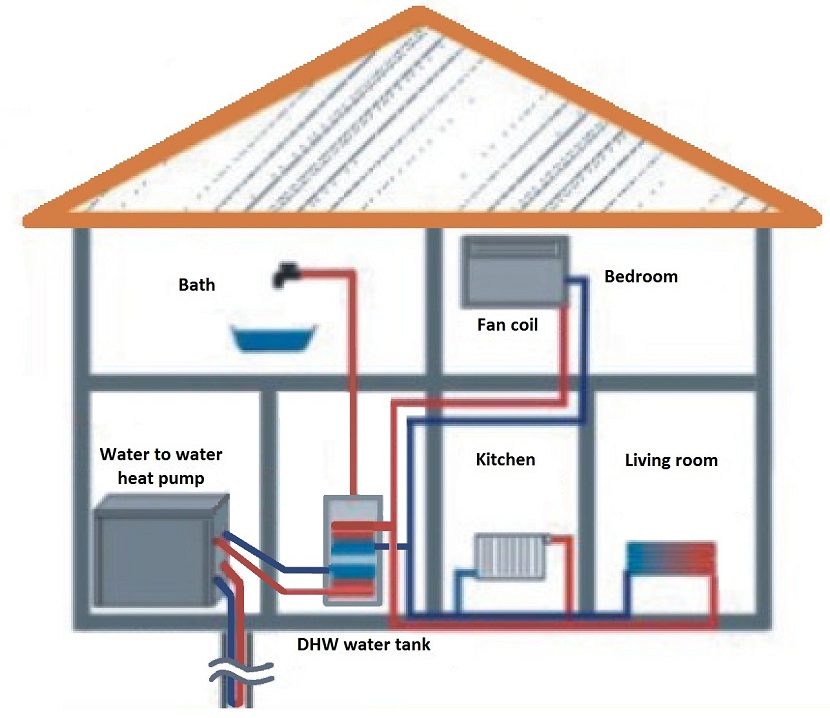 AIM has Professional Testing laboratory was built about $450,000, which have a whole set testing:
1) Standard heating, cooling
2) Simulate Low and High temp working condition, a variety of ambient temp, indoor temp and outdoor temp.
3) Power consumption
4) COP and SEER
5) Defrosting
6) Air conditioner, water source, air source and hot water heat pump performance and capacity reliability testing
7) Controller function testing
8) Test goods at all kinds of power supply
9) Setting Temp ranges -25~60℃, its accuracy is +-0.2℃; Humidity ranges 20%~99%, its accuracy is +-1%.
10) DC inverter water flow and air flow control (100m³/h ~ 3000 m³/h)
11) Temp, pressure, power collector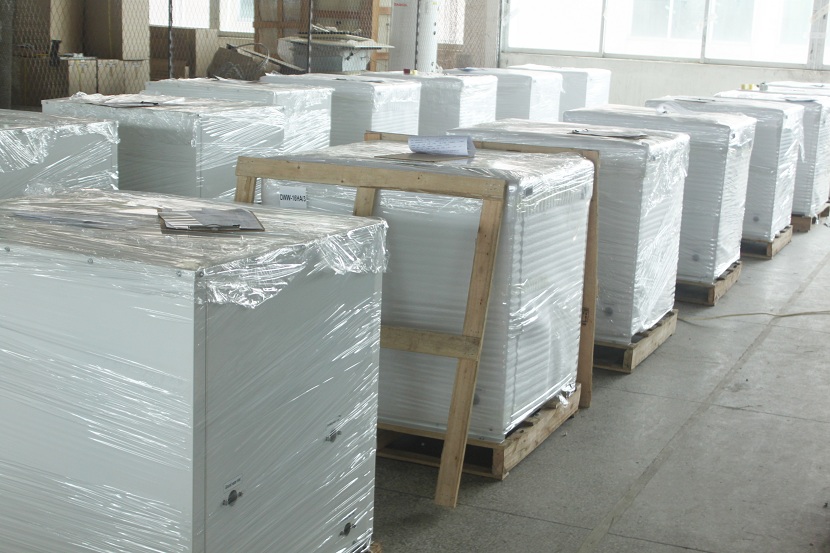 Production process of heat pump
1. Base plates go online
2. Install compressors, condensers and evaporators
3. Assemble and weld copper pipes
4. Recharged with Nitrogen
5. Water-inspection (Check if exist in air leakage)
6. Discharge Nitrogen
7. Vacuum air-removed
8. Add refrigerant
9. Halogen inspection
10. Fix fan component
11. Install electrical control
12. Security checks (Insulation, Ground connection, Dielectric Strength test, Leakage)
13. Run commodity inspection (The noise of components and parts, Function, Timing, shutdown, current, Difference in temperature)
14. Stick nameplate and connection diagram
15. Document attached (Product Manuals, instructions)
16. Final inspection (Appearance parts)
17. Packing
18. Tape-out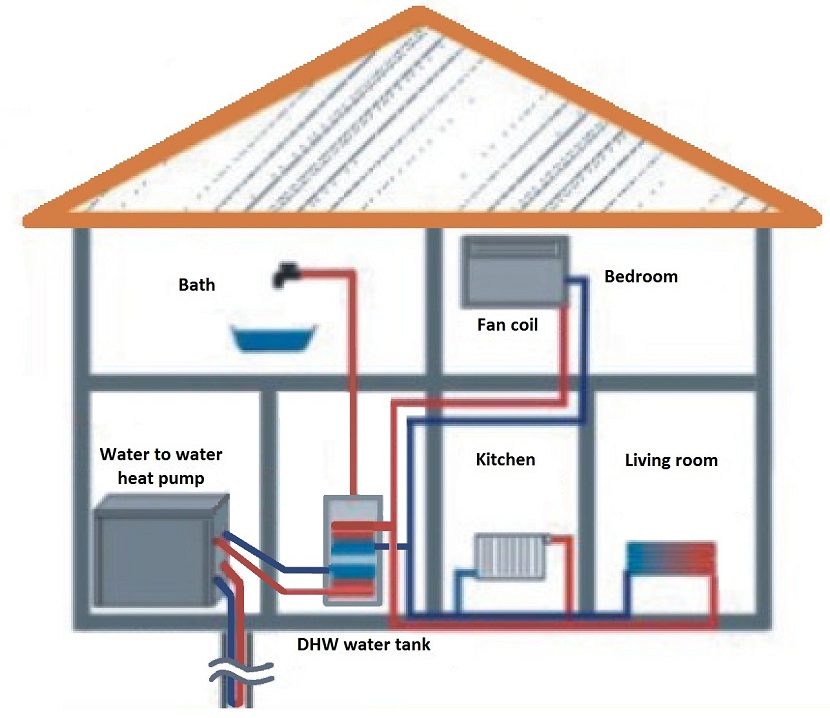 Air and water source heat pumps Main components and Effect:

1. Compressor: Famous Brand Panasonic, Sanyo, Mitsubishi,Toshiba Rotary Compressor or Sanyo, Copeland, DAIKIN Scroll Compressor with environmentally friendly Refrigerant gas R407C/R410A/R134a/R417A
Effect: Compress and transport cycle fluid from low temperature low pressure to high temperature high pressure, it's the heart of heat pump system.
2. Evaporator or heat exchanger: Hydrophilic aluminum foil Finned tube Heat Exchanger.
Effect: It's the cooling output facility. Evaporate the refrigerant liquid which flowing through the expansion valve to absorb the heat from the cooled object, so achieve the purpose of cooling.
3. Condenser: Coil type, plate type, casing type, High efficiency tube in shell heat ex-changer or Titanium heat ex-changer.
Effect: It's the heating output facility. Heat absorbed from the evaporator with the converted heat by compressor power consumption is carried away by cooled medium in the condenser, to achieve the purpose of heating.
4. House casing: anti corrosion and rustproof Stainless steel or Spray coating metal plate for whole set of casing, Buttress and frame system, Electric Control Box etc.
5. Microprocessor automatic Controller sets: LCD touch screen Wifi Display, Neatly wiring PCB Board in individual controller box, Whole sets of temp sensors, Capacitors, Transformer.
6. Copper Pipes: throttling device, pipes connect all system, compressor, heat ex-changer, EEV and so on sub-assembly.  
7. Thermostatic expansion valve or Japanese Sanhua Electronic Expansion valve and 4-Way Valve
EEV Effect: For circulating fluid Throttling depressurization and adjust the flow of cycle fluid into the evaporator.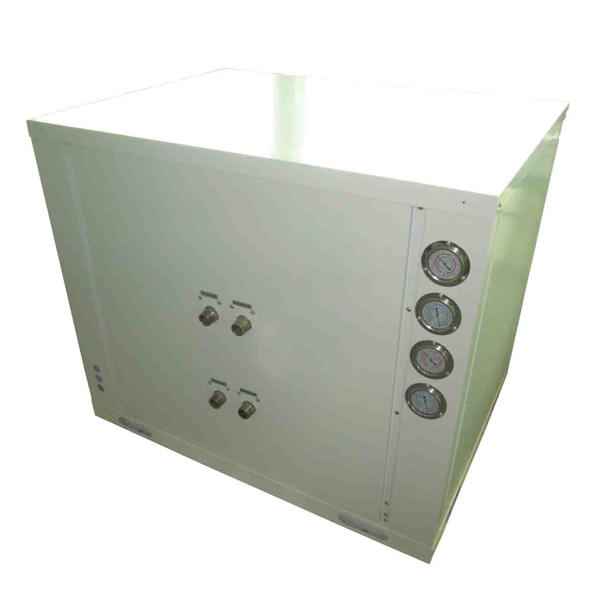 Main quality control project list:
1. Check all parts before assembling.
2. Charge nitrogen to test leakage and pressure maintaining after welding system.
3. Vacuumize, the vacuum pressure ≤30Pa
4. Leakage detection by halogen after charge refrigerant.
5. Safety testing: High-voltage insulation test and ground resistance.
6. Operation testing, record refrigerant pressure, temp. etc.
7. Inspect inside unit's cleanliness and appearance.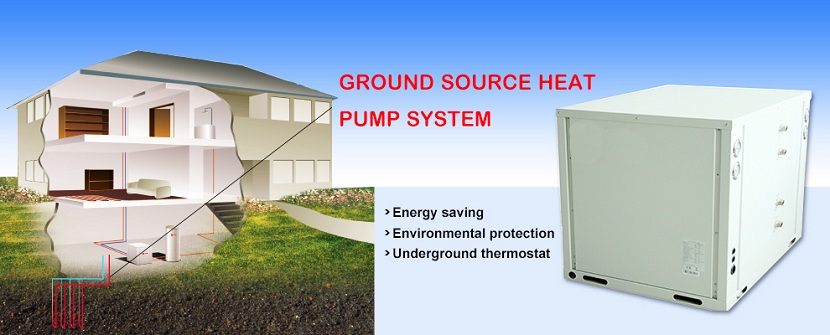 AIM's main heat pump series:
1. Split domestic hot water heat pump,
2. All in one hot water heat pump,
3. Swimming pool heat pump,
4. Commercial hot water heat pump,
5. EVI air source heat pump,
6. Instant hot water heat pump,
7. High temp heat pump,
8. Dryer air to water heat pump,
9. Chiller heating and cooling air conditioner;
10. DC inverter air to water heat pump,
11. Multifunctional air source heat pump,
12. Water to water heat pump,
13. Water tank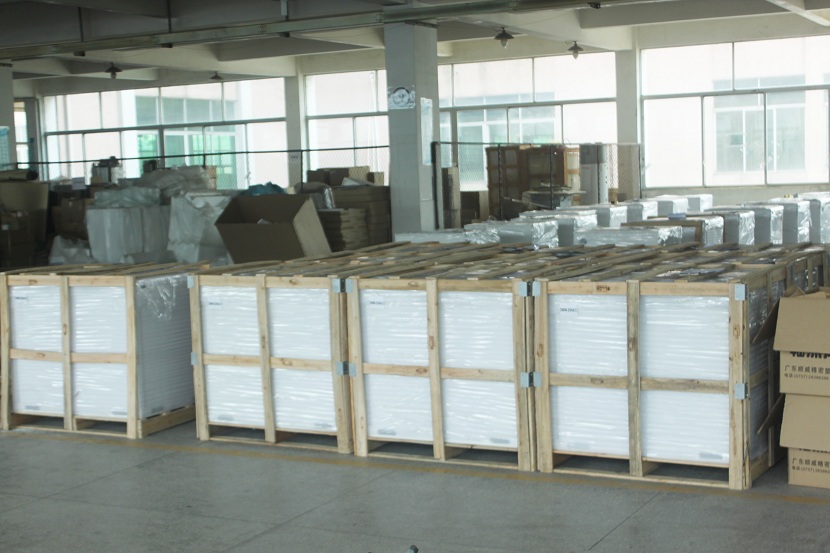 Best Services:
1) OEM/ODM service is available.
2) Produce heat pump according to ISO items , design following customer's special demands, test as Europe EN14511 standard.
3) Supply 1~2% free spare parts according to order quantity.
4) General testing and operational test carried out for every unit before delivery.
5) 18 month whole unit warranty period. Using life free technical support forever.
6) 24 hours technical services online.
7) Return or change goods within 2 months.
8) Video teach how to install, how to maintain.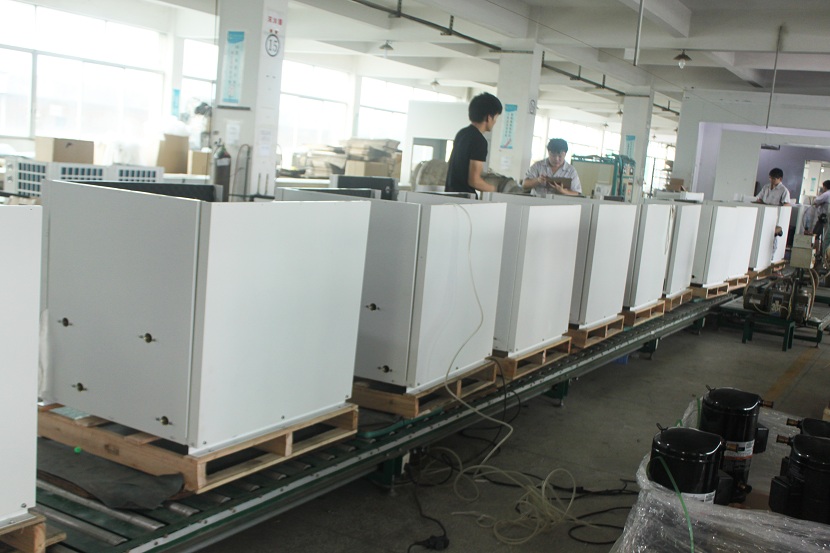 Get the latest price? We'll respond as soon as possible(within 12 hours)