Heat Pumps For Low Temp Area
Heat Pumps For Low Temp Area
Brand :AIM
Product origin :China
Delivery time :20 days after payment
Supply capacity :8000 units/month
Features:
Safe working temp down to -25℃
Economic & durable
Automatic defrosting
American Copeland EVI scroll compressor
Low noise & vibration
Sanhua 4-way valve
Tube in shell heat exchanger
American Emerson expansion valve



Description:
It adopts the most advanced low-temperature enhanced vapors injection compressor echnology, EVI heat pump delivers higher heating capacity at low evaporation temp. thereby better responding to heating requirements than normal air source heat pumps.
It can supply hot water and heating for large buildings in cold area.
EVI low temp. -25℃ Air to water heat pump specification 10-17kw:
MODEL


JTS-10L
JTS-14L
JTS-17II/L
Hot water capacity
kW
10.3
14.5
17.8
COP in Hot Water (A9/A19) Refer row 40


4.42
4.42
4.44
Rise in water Temp required
°C
30 °C
30 °C
30 °C
Hot water output under recirculations
L/h
295 Liters/Hour
416 Liters/Hour
510 Liters/Hour
Rated outlet water Temp.
°C
55 °C
55 °C
55 °C
Max outlet water Temp.
°C
60 °C
60 °C
60 °C
Space Heating capacity water (in/out):35℃/40℃
kW
8.2
12.5
15.5
COP Space Heating (A15/A19) Refer row 54


3.52
3.81
3.87
Space Heating capacity water (in/out):40℃/45℃
kW
8.2
12.5
14.6
COP Space Heating (A17/A19) Refer row 55


3.52
3.81
3.64
Rated power input
Kwh
2.33
3.28
4.01
Rated current
A
11.77
16.57
7.62
Power supply
V/Hz/Ph
220~240/ 50 / 1
220~240/ 50 / 1
380~415/ 50 / 3
Compressor type


Copeland Scroll
Copeland Scroll
Copeland Scroll
Number of Compressors
pc
1
1
1
Water pipe size
inch
1''
1''
1''
PLC Controller


Yes Digital LCD Controller
Yes Digital LCD Controller
Yes Digital LCD Controller
Water Tank temp sensor & its error detection


Yes
Yes
Yes
Controller Communications failure


Yes
Yes
Yes
PCB in the Unit


Yes
Yes
Yes
Cabinet


GI powder coated / Stainless Steel @ extra cost
Product dimensions
mm
800/ 400/ 1220
1000/ 470/ 1180
1110/ 530/ 1260
Product Net weight
kg
110
140
155
Package dimensions
mm
845x470x1340
1100x480x1540
1215x650x1447
Shipping Weight
KG
125.00
159.00
170.00
Test condition: Water flow 0.172m³/(hkW),
Normal: initial temp 15℃, terminated temp 55℃. Ambient temp DB/WB 20/15℃
Low temp: initial temp 15℃, terminated temp 55℃. Ambient temp DB/WB -12/-14℃
Air and water source heat pumps Main components and Effect:
1. Compressor: Famous Brand Panasonic, Sanyo, Mitsubishi,Toshiba Rotary Compressor or Sanyo, Copeland, DAIKIN Scroll Compressor with environmentally friendly Refrigerant gas R407C/R410A/R134a/R417A
Effect: Compress and transport cycle fluid from low temperature low pressure to high temperature high pressure, it's the heart of heat pump system.
2. Evaporator or heat exchanger: Hydrophilic aluminum foil Finned tube Heat Exchanger.
Effect: It's the cooling output facility. Evaporate the refrigerant liquid which flowing through the expansion valve to absorb the heat from the cooled object, so achieve the purpose of cooling.
3. Condenser: Coil type, plate type, casing type, High efficiency tube in shell heat ex-changer or Titanium heat ex-changer.
Effect: It's the heating output facility. Heat absorbed from the evaporator with the converted heat by compressor power consumption is carried away by cooled medium in the condenser, to achieve the purpose of heating.
4. House casing: anti corrosion and rustproof Stainless steel or Spray coating metal plate for whole set of casing, Buttress and frame system, Electric Control Box etc.
5. Microprocessor automatic Controller sets: LCD touch screen Wifi Display, Neatly wiring PCB Board in individual controller box, Whole sets of temp sensors, Capacitors, Transformer.
6. Copper Pipes: throttling device, pipes connect all system, compressor, heat ex-changer, EEV and so on sub-assembly.  
7. Thermostatic expansion valve or Japanese Sanhua Electronic Expansion valve and 4-Way Valve
EEV Effect: For circulating fluid Throttling depressurization and adjust the flow of cycle fluid into the evaporator.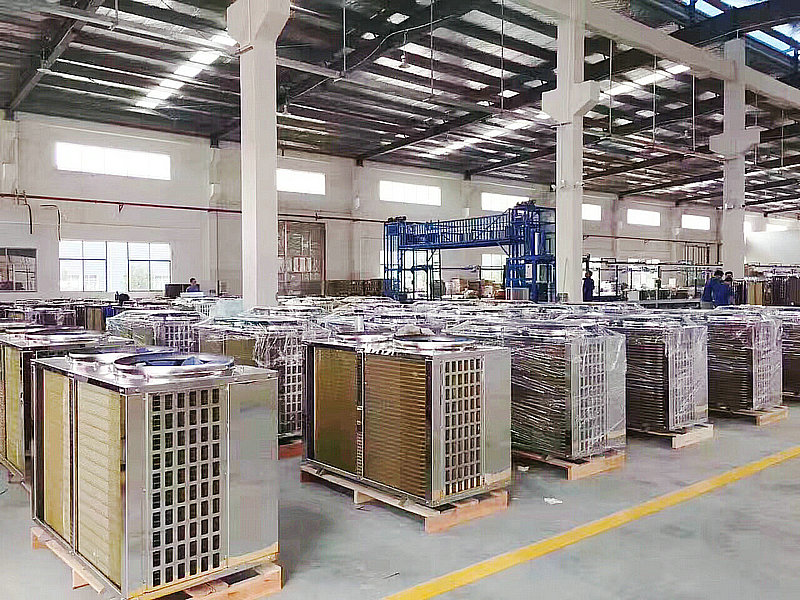 Working Principle:

Compressor gets the low temperature and low pressure air refrigerant from evaporator, then turn it into high temperature and high pressure air, this air gets into the condenser to exchange the heat with water, then the condensed air become low temperature fluid and release lots of heat energy.
Water gets this heat energy and become hotter and hotter.
This high pressure and low temperature fluid become low pressure by the primary flow meter device.
This low pressure and low temperature fluid, gets into the evaporator, Under the function of rotation fan, heat energy from air is absorbed by the fluid and becomes low pressure refrigerant,
then is absorbed by compressor, recycling to produce the hot water.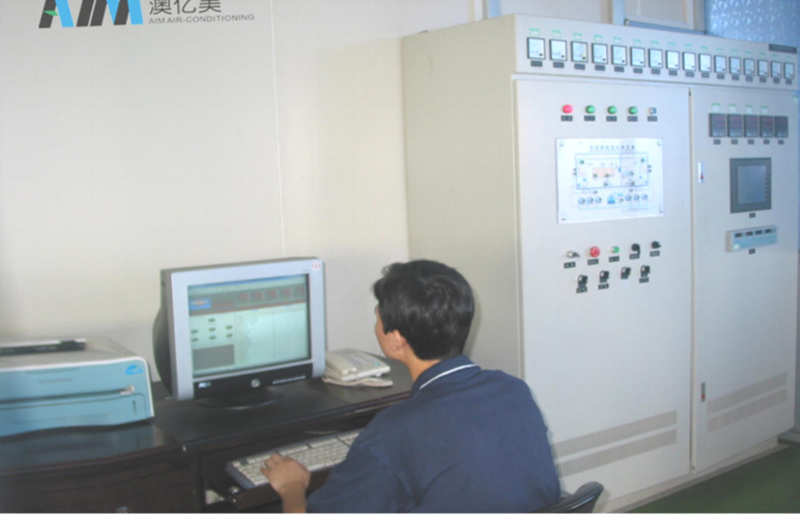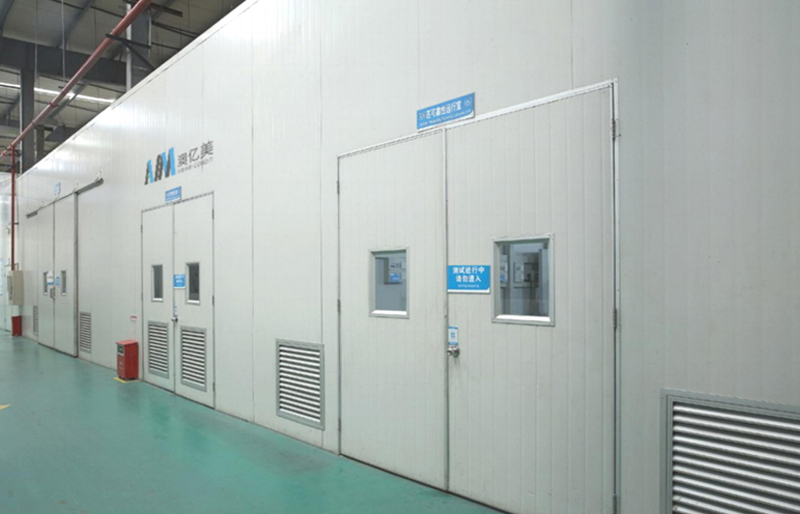 Main quality control project list:
1. Check all parts before assembling.
2. Charge nitrogen to test leakage and pressure maintaining after welding system.
3. Vacuumize, the vacuum pressure ≤30Pa
4. Leakage detection by halogen after charge refrigerant.
5. Safety testing: High-voltage insulation test and ground resistance.
6. Operation testing, record refrigerant pressure, temp. etc.
7. Inspect inside unit's cleanliness and appearance.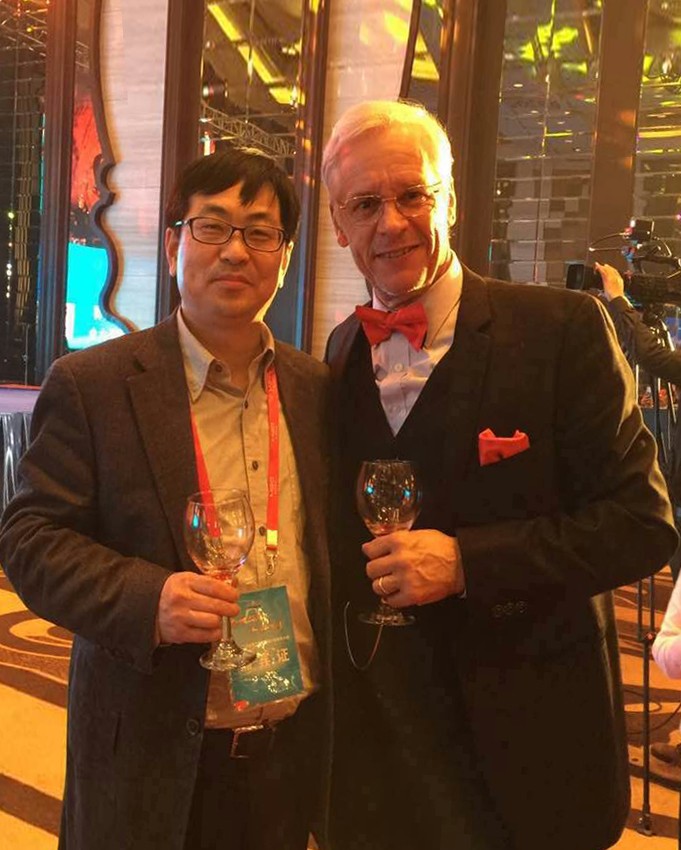 Best Warranty and Fast Service:
1. MOQ: 1 unit (For a larger order, the price will be fixed upon receipt of a definite order)
2. Delivery Time: 7~15 working days after the order is confirmed
3. Payment Term: TT/LC. Large order, 30%TT before production, balance before delivery; samples, 100%TT before production
4. Package: Samples are packed by plywood or wooden frame; the full container small goods by carton, large goods by wooden frame.
5. Shipment Term: CIF,EXW,FOB Shenzhen, Guangzhou, Foshan Port (Other terms welcome put forward)
6. Quotation Deadline: Half a month.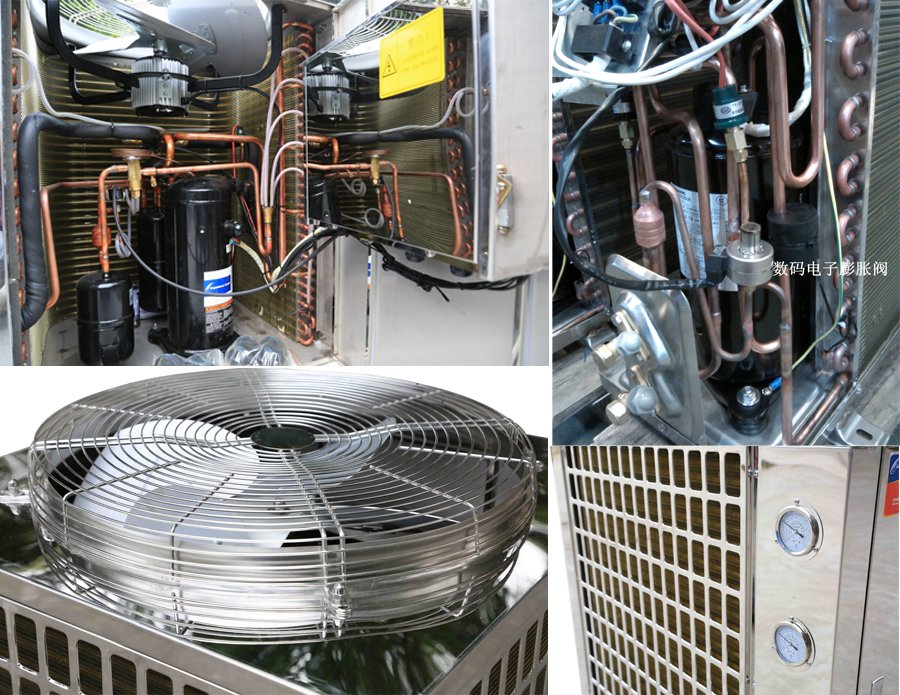 Guarantee:
2~3 years for main parts such as compressor, 2 years warranty period for host machine, give technical consultation for ever.
If you purchase one container or more, there is discount. Also you can gain 1% accessories of total amount. The more you purchase, the cheaper price you'll get.
Sales Manager: Ms. Jenny
Guangdong AIM Energy Saving Technology Co., Ltd.
Add: Longchuan Dengyun Zhen Shenzhen Nanshan(Longchuan) industrial transfer park,Heyuan,Guangdong
Cell & WhatsApp & Wechat: +86 15919073687
Jenny Zeng. Skype: jenny02025
E-mail: jennyzeng5@foxmail.com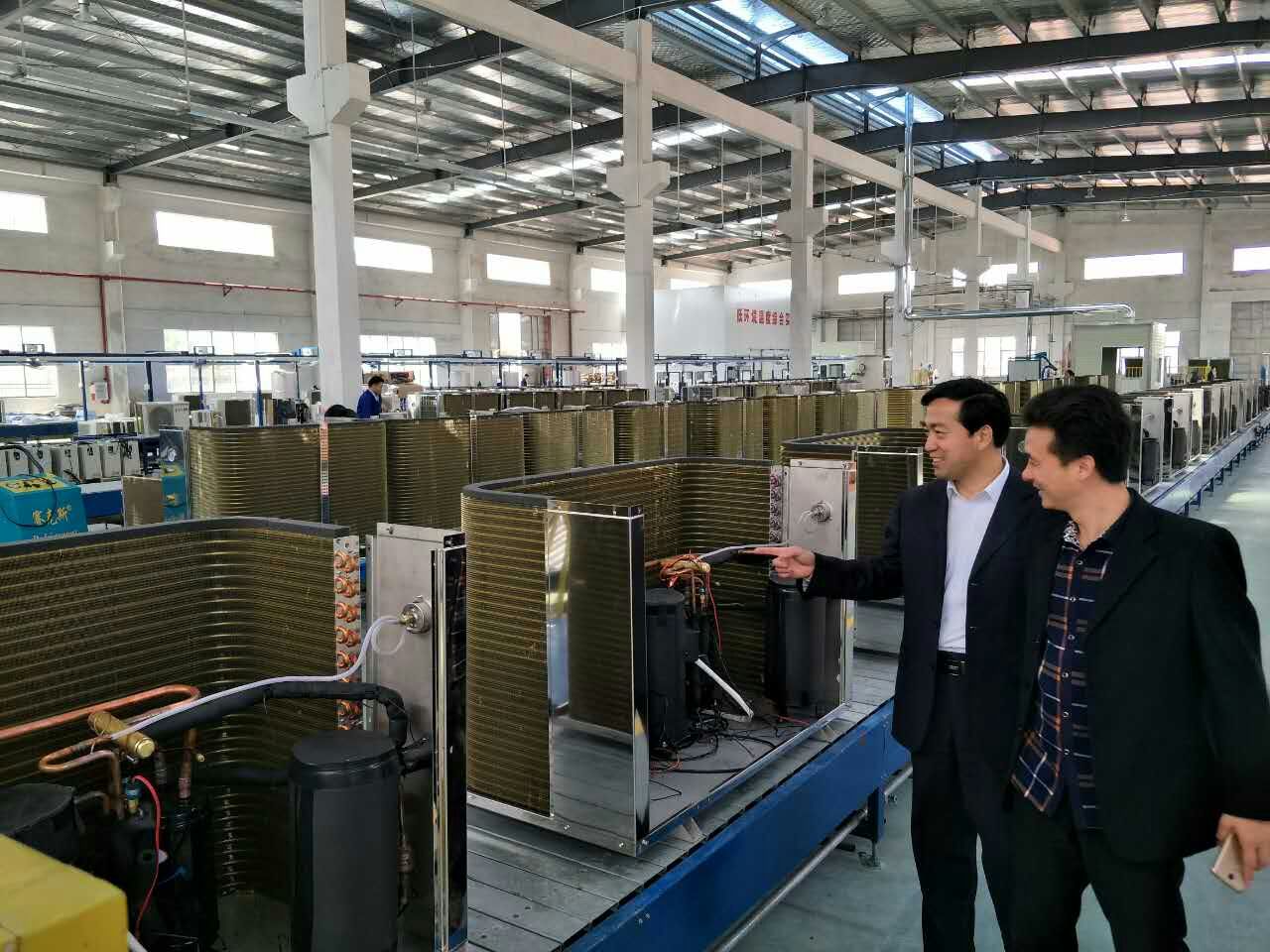 Guangdong AIM Energy Saving Technology Co., Ltd. built in 2000, it's a high-tech new energy and high efficient environmental protection enterprise more than 22,000m² area who concentrates on researching and developing air source, water and ground source, central air-conditioner ect. Now AIM has three R & D bases between Guangzhou, Foshan and Heyuan of Guangdong. Specialized in high quality stainless steel air source water heat pump, stainless steel water tank, is one of the top companies which has a complete product chain.

As a Drafting Committee of Multifunctional air source heat pump, AIM has dozens of core intellectual property rights of the patented technology, has been rated as a private technology enterprises in Guangdong, the national high-tech new energy enterprise, won the glory of the industry benchmark for enterprise, industry outstanding brand, industry top besting-selling brand, industry famous brand, and successfully listed in Guangdong Equity Exchange Co., Ltd in 2015 (Stock Code: 891110)
The products quality is AIM enterprise's life, every person of AIM treats each product as esteemed as life. AIM has gained the certificates of ISO9001 International Quality System Certification, ISO14001 Environmental Management System Certification. Industrial production license, CCC, CE, TUV and International standard product certification. AIM has a strict standard of inspecting for product quality, a completely production management control system. Thereby, which ensure the high quality for products and best service for customers. Ideal life, made life comfortable, starting from AIM.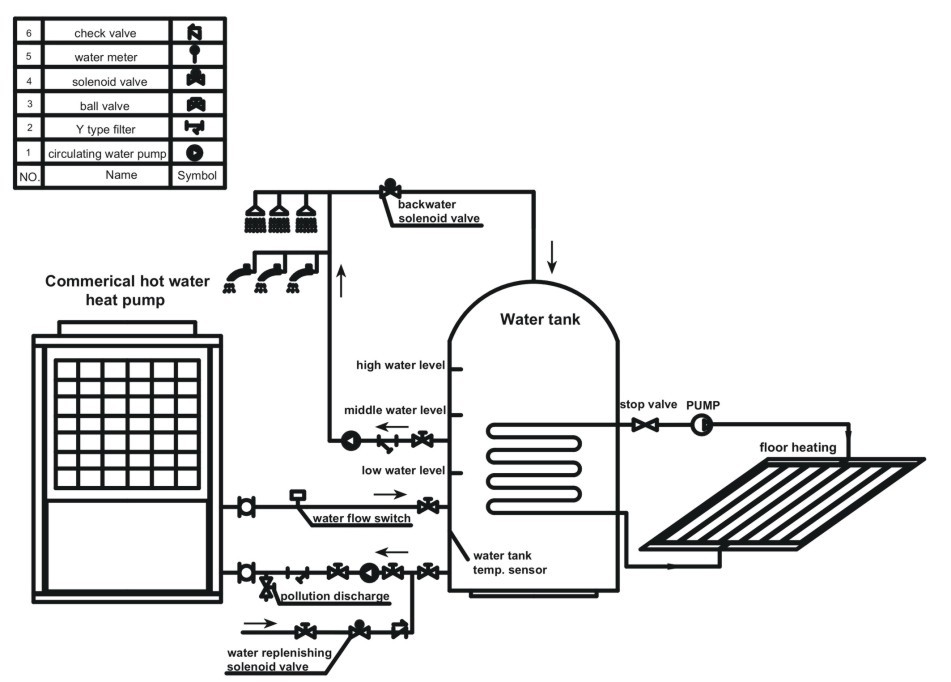 AIM's main heat pump series:
Split domestic hot water heat pump,
All in one domestic hot water heat pump,
Swimming pool heat pump,
Commercial hot water heat pump,
EVI air source heat pump,
Direct instant hot water heat pump,
High temp heat pump,
Dryer air to water heat pump,
Chiller heating and cooling air conditioner;
DC inverter air to water heat pump,
Multifunctional air source heat pump,
Water to water heat pump,
Water tank (pressure bearing and insulated) for heat pumps.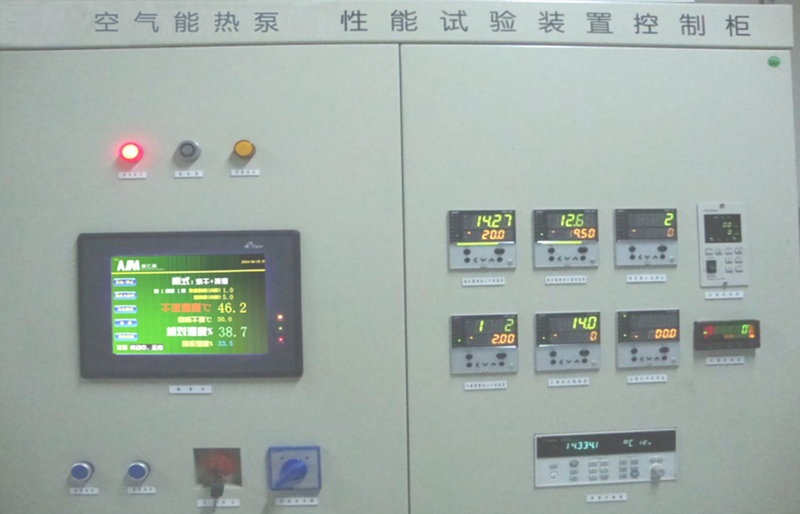 Get the latest price? We'll respond as soon as possible(within 12 hours)