High Water Oulet Temp Heater
High Water Oulet Temp Heater
Brand :AIM
Product origin :China
Delivery time :20days
Supply capacity :8000units/month
Features:
Max hot water outlet temp 80℃
Economic & durable & stable running
Automatic Intelligent defrosting
American Copeland scroll compressor
Low noise & vibration
American Emerson expansion valve
Sanhua 4-way valve
Tube in shell heat exchanger
80℃ air to water High Temperature Industrial and Commercial Air source Heat Pump
| | | | | | |
| --- | --- | --- | --- | --- | --- |
| Model | | LSQ-5HJ/XG | JT-34II/XG | JT-52II/XG | JT-73.6II/XG |
| Horse power (HP) | | 5 | 10 | 15 | 20 |
| Heating capacity | kW | 12.88 | 24.64 | 37.8 | 51.8 |
| COP | | 2.80 | 2.80 | 2.80 | 2.80 |
| Rated power input | kW | 4.6 | 8.8 | 13.5 | 18.5 |
| Maximum power input | kW | 5.5 | 9.6 | 16 | 22 |
| Rated current | A | 8.5 | 15 | 24 | 36 |
| Maximum current output | A | 12 | 20 | 28 | 43 |
| Rated heated water output | L/h | 195 | 400 | 560 | 600 |
| Power supply | V/Hz/Ph | 380V/3N~/50Hz | 380V/3N~/50Hz | 380V/3N~/50Hz | 380V/3N~/50Hz |
| Compressor type | | Copeland Scroll | Copeland Scroll | Copeland Scroll | Copeland Scroll |
| Compressor model | | ZW61KAE | ZW61KAE | ZW79KAE | ZW125KAE |
| Number of Compressors | | 1 | 2 | 2 | 2 |
| Heat exchanger type | | High efficiency tube in shell heat exchanger | High efficiency tube in shell heat exchanger | High efficiency tube in shell heat exchanger | High efficiency tube in shell heat exchanger |
| Throttling device | | Emerson thermal expansion valve | Emerson thermal expansion valve | Emerson thermal expansion valve | Emerson thermal expansion valve |
| Fan type | | Low noise high effciency axial type | Low noise high effciency axial type | Low noise high effciency axial type | Low noise high effciency axial type |
| Fan discharging | | Vertical | | | |
| Fan quantity | | 1 | 2 | 2 | 2 |
| Fan input | W | 250 | 250 | 250 | 550 |
| Fan speed | RPM | 920 | 920 | 920 | 920 |
| Ambient temperature | ℃ | -10℃~43℃ | -10℃~43℃ | -10℃~43℃ | -10℃~43℃ |
| Rated / Max outlet water temp. | ℃ | 75 / 80 | 75 / 80 | 75 / 80 | 75 / 80 |
| Refrigerant | | R407C/410A/134a | R407C/410A/134a | R407C/410A/134a | R407C/410A/134a |
| Hot water circulation flow | m³/h | 10 | 13 | 20 | 25 |
| Water side pressure loss | kPa | 35 | 35 | 35 | 35 |
| Water flow pressure drop | Mpa | 0.01-0.02 | 0.01-0.02 | 0.01-0.02 | 0.01-0.02 |
| Suction/discharge max pressure | Mpa | 0.8 / 2.8 | 0.8 / 2.8 | 0.8 / 2.8 | 0.8 / 2.8 |
| Anti-electric shock class | | Class I | Class I | Class I | Class I |
| Unit protection class | | IPX4 | IPX4 | IPX4 | IPX4 |
| Noise in 1 meter distance | dB(A) | 59 | 60 | 62 | 65 |
| Water pipe size | inch | 1.5" | 1.5" | 1.5" | 2" |
| Cabinet | | Stainless steel / Steel with powder coated | Stainless steel / Steel with powder coated | Stainless steel / Steel with powder coated | Stainless steel / Steel with powder coated |
| High/Low pressure protection | | Yes | Yes | Yes | Yes |
| Automatic defrosting system | | Yes | Yes | Yes | Yes |
| Water flow switch | | No | No | No | No |
| Dimention | mm | 717x717x960 | 1424x717x960 | 1600x805x960 | 2000x1100x1860 |
| Package Dimention | mm | 817x817x1160 | 1524x817x1160 | 1700x905x1160 | 2100x1200x2060 |
| Net weight | kg | 125 | 230 | 238 | 480 |
| Gross weight | kg | 150 | 265 | 275 | 510 |
Testing condition: Ambient temp. (DB/WB): 20℃/15℃, input/output water temp. 15℃/75℃
AIM Air source high temp heat pump water heater utilizes cutting edge scroll EVI technology on compressor with R134a Eco-friendly refrigerant and enables output water temp to reach maximum 75℃~90℃ without auxiliary electric heating element.
75~90℃ high temperature with best efficiency
Thanks to the extended operation range of EVI scroll compressor and the characteristic of R134a refrigerant, the heat pump delivers maximum 90℃ hot water in purpose of anti-legionella for sanitary hot water, radiator, fan coil, boiler or other special demand of high temperature hot water.
More Economic heating solution
The high temp heat pump will replace the pollutional boiler directly or take part in the water heating system together with boiler for primary heating device so that to reduce energy consumption of the whole system.
Satisfy special demand on high temp water
The heat pump built in copper heat exchanger for ordinary heating purpose of sanitary hot water heating or house heating with radiator, and optional titanium heat exchanger for sepcial purpose of industrial cleaning treatment.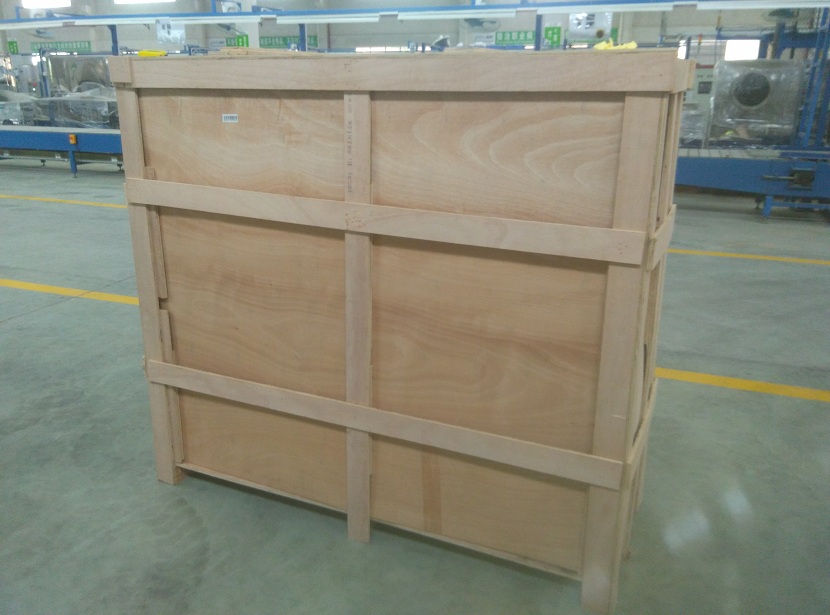 Working Principle:
Compressor gets the low temperature and low pressure air refrigerant from evaporator, then turn it into high temperature and high pressure air, this air gets into the condenser to exchange the heat with water, then the condensed air become low temperature fluid and release lots of heat energy.
Water gets this heat energy and become hotter and hotter.
This high pressure and low temperature fluid become low pressure by the primary flow meter device.
This low pressure and low temperature fluid, gets into the evaporator, Under the function of rotation fan, heat energy from air is absorbed by the fluid and becomes low pressure refrigerant,
then is absorbed by compressor, recycling to produce the hot water.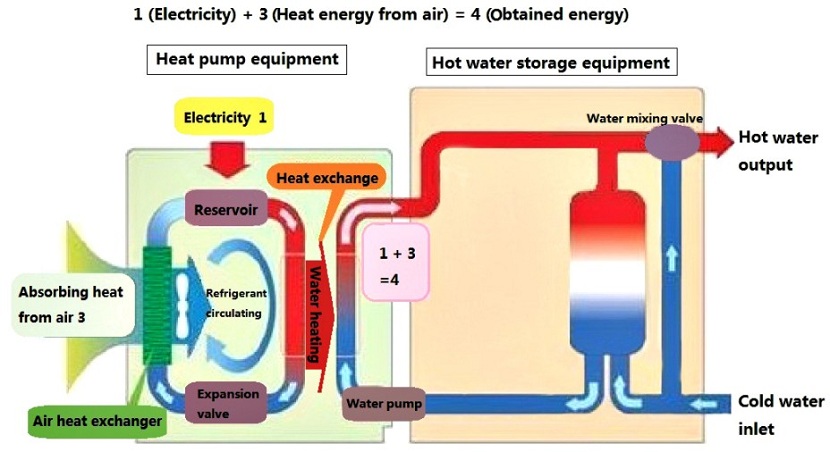 How to select water tank:
| | | |
| --- | --- | --- |
| Volume | Power Input | User Needs |
| 100L | 600W | For 2-3 people |
| 150L | 600W | For 3-4 people |
| 200L | 600W | For 4-5 people |
| 250L | 850W | For 5-6 people |
| 300L or above | 850W or 1300W | More than 7people, or use bathtub |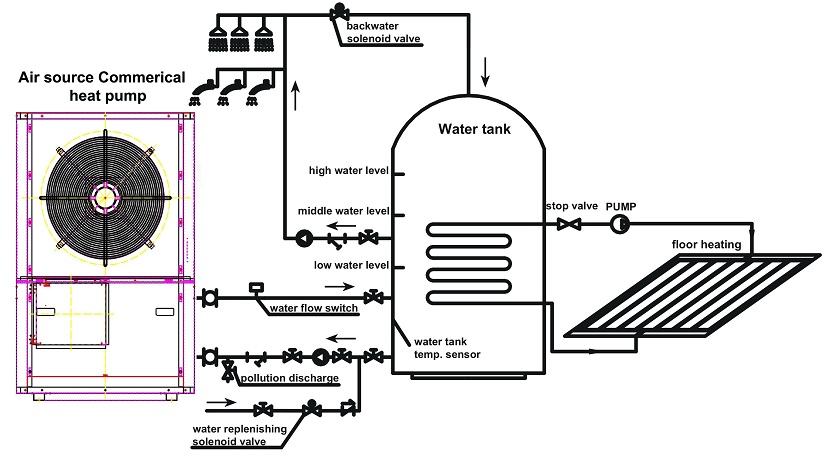 Production process of heat pump
1. Base plates go online
2. Install compressors, condensers and evaporators
3. Assemble and weld copper pipes
4. Recharged with Nitrogen
5. Water-inspection (Check if exist in air leakage)
6. Discharge Nitrogen
7. Vacuum air-removed
8. Add refrigerant
9. Halogen inspection
10. Fix fan component
11. Install electrical control
12. Security checks (Insulation, Ground connection, Dielectric Strength test, Leakage)
13. Run commodity inspection (The noise of components and parts, Function, Timing, shutdown, current, Difference in temperature)
14. Stick nameplate and connection diagram
15. Document attached (Product Manuals, instructions)
16. Final inspection (Appearance parts)
17. Packing
18. Tape-out
Best Warranty and Fast Service:
1. MOQ: 1 unit (For a larger order, the price will be fixed upon receipt of a definite order)
2. Delivery Time: 7~15 working days after the order is confirmed
3. Payment Term: TT/LC. Large order, 30%TT before production, balance before delivery; samples, 100%TT before production
4. Package: Samples are packed by plywood or wooden frame; the full container small goods by carton, large goods by wooden frame.
5. Shipment Term: CIF,EXW,FOB Shenzhen, Guangzhou, Foshan Port (Other terms welcome put forward)
6. Quotation Deadline: Half a month.
Guarantee:
2~3 years for main parts such as compressor, 2 years warranty period for host machine, give technical consultation for ever.
If you purchase one container or more, there is discount. Also you can gain 1% accessories of total amount. The more you purchase, the cheaper price you'll get.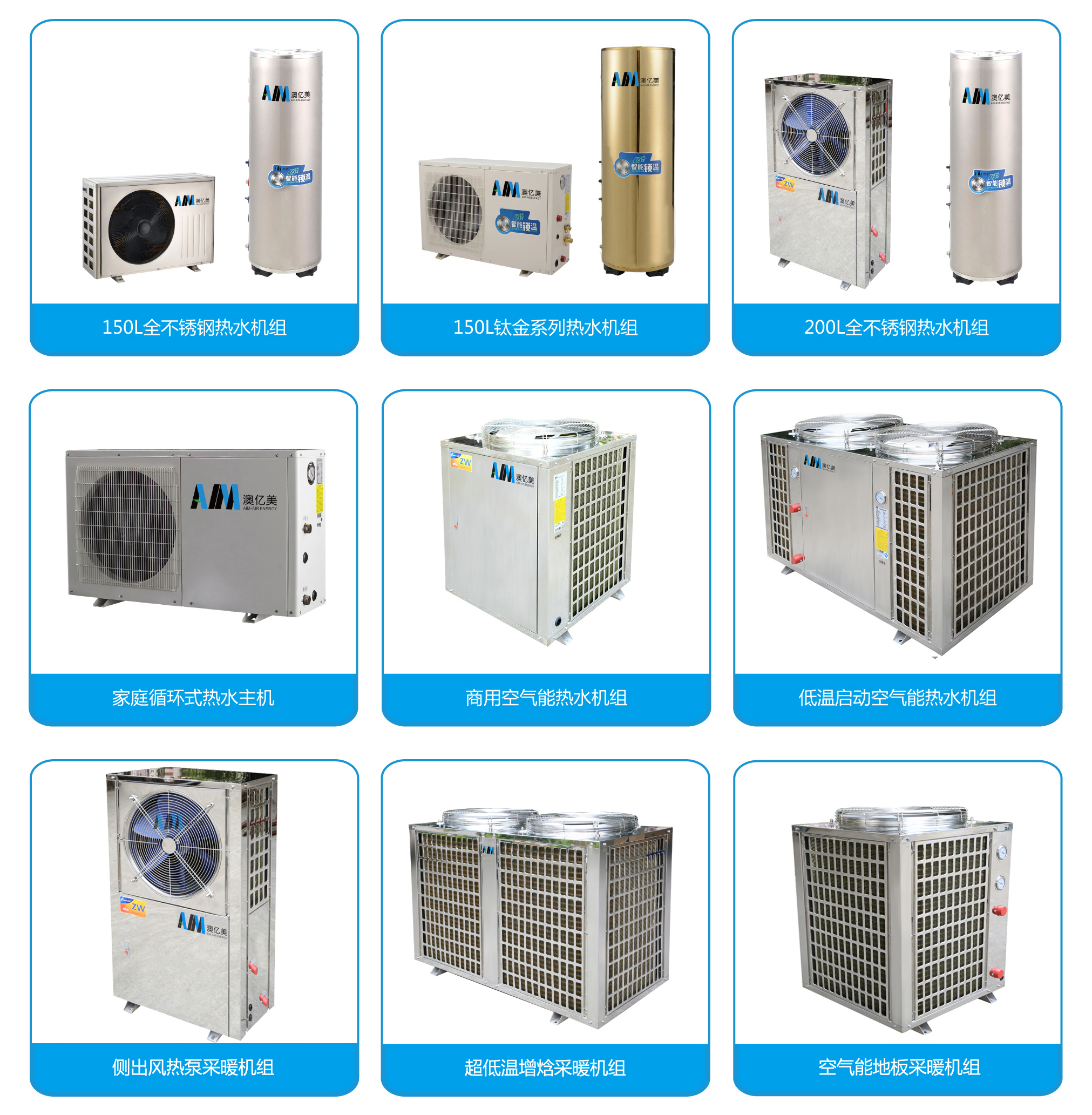 Sales Manager: Ms. Jenny
Guangdong AIM Energy Saving Technology Co., Ltd.
Add: Longchuan Dengyun Zhen Shenzhen Nanshan(Longchuan) industrial transfer park,Heyuan,Guangdong
Cell & WhatsApp & Wechat: +86 15919073687
Jenny Zeng. Skype: jenny02025
E-mail: jennyzeng5@foxmail.com
Get the latest price? We'll respond as soon as possible(within 12 hours)