Hotel Heating Pump
Hotel Heating Pump
Brand :AIM
Product origin :China
Delivery time :20 days after payment
Supply capacity :5000units/month
Working principle:

Compressor absorbs low temperature and low pressure refrigerant gas from the evaporator, then refrigerant compressed to high temperature and high pressure gas. The high temperature and high pressure gas goes into the condenser through fan to exchange heat with the air, and condensed into cryogenic liquid in the condenser and give off a lot of heat.

The air absorbs the heat and the temperature increasing. High pressure and low temperature liquid is throttled and depressurized through the expansion valve, absorbs heat from the surrounding air and volatilize into low pressure gas by fan in the evaporator, being compressed in the compressor, this repeated cycle, so as to continuously rise the water temperature.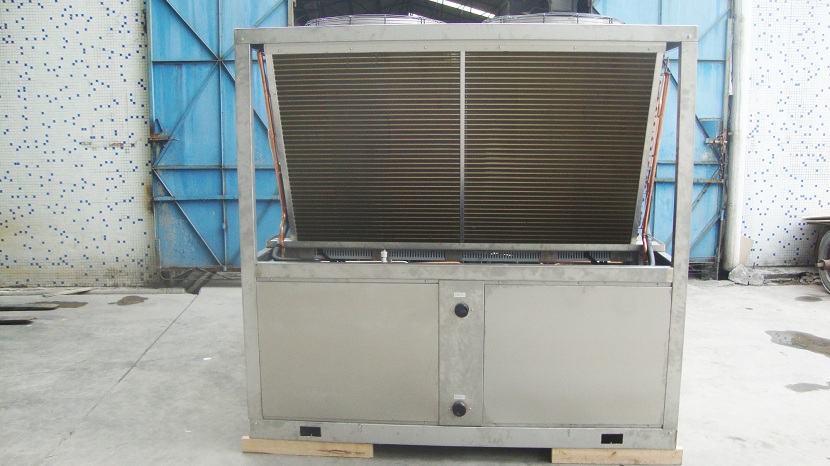 Air and water source heat pumps Main components and Effect:
1. Compressor: Famous Brand Panasonic, Sanyo, Mitsubishi,Toshiba Rotary Compressor or Sanyo, Copeland, DAIKIN Scroll Compressor with environmentally friendly Refrigerant gas R407C/R410A/R134a/R417A
Effect: Compress and transport cycle fluid from low temperature low pressure to high temperature high pressure, it's the heart of heat pump system.
2. Evaporator or heat exchanger: Hydrophilic aluminum foil Finned tube Heat Exchanger.
Effect: It's the cooling output facility. Evaporate the refrigerant liquid which flowing through the expansion valve to absorb the heat from the cooled object, so achieve the purpose of cooling.
3. Condenser: Coil type, plate type, casing type, High efficiency tube in shell heat ex-changer or Titanium heat ex-changer.
Effect: It's the heating output facility. Heat absorbed from the evaporator with the converted heat by compressor power consumption is carried away by cooled medium in the condenser, to achieve the purpose of heating.
4. House casing: anti corrosion and rustproof Stainless steel or Spray coating metal plate for whole set of casing, Buttress and frame system, Electric Control Box etc.
5. Microprocessor automatic Controller sets: LCD touch screen Wifi Display, Neatly wiring PCB Board in individual controller box, Whole sets of temp sensors, Capacitors, Transformer.
6. Copper Pipes: throttling device, pipes connect all system, compressor, heat ex-changer, EEV and so on sub-assembly.  
7. Thermostatic expansion valve or Japanese Sanhua Electronic Expansion valve and 4-Way Valve
EEV Effect: For circulating fluid Throttling depressurization and adjust the flow of cycle fluid into the evaporator.
Production process of heat pump
1. Base plates go online
2. Install compressors, condensers and evaporators
3. Assemble and weld copper pipes
4. Recharged with Nitrogen
5. Water-inspection (Check if exist in air leakage)
6. Discharge Nitrogen
7. Vacuum air-removed
8. Add refrigerant
9. Halogen inspection
10. Fix fan component
11. Install electrical control
12. Security checks (Insulation, Ground connection, Dielectric Strength test, Leakage)
13. Run commodity inspection (The noise of components and parts, Function, Timing, shutdown, current, Difference in temperature)
14. Stick nameplate and connection diagram
15. Document attached (Product Manuals, instructions)
16. Final inspection (Appearance parts)
17. Packing
18. Tape-out
Hot water Commercial Air source Water cycle heating industrial heat pumps
Model


JT-30II/X
JT-34II/X
JT-52II/X
Heating capacity
kW
36.3
43.7
54.4
COP


4.65
4.62
4.69
Rated heated Water output
L/h
780
940
1200
Rated power input
kW
7.8
9.45
11.6
Maximum power input
kW
7.6
10.12
13.5
Rated current
A
14.81
17.94
22.03
Maximum current output
A
15
23
28
Power supply
V/Hz/Ph


380-415V/50Hz/3Ph
380-415V/50Hz/3Ph
Compressor type


Scroll
Scroll
Scroll
Number of Compressors
pc
2
2
2
Heat exchanger type


High efficiency tube in shell heat exchanger
Throtting device


Emerson thermal expansion valve
Fan type


Low noise high efficiency axial type
Fan discharging


Vertical
Vertical
Vertical
Fan quantity
pcs
2
2
2
Fan input
W
250
250
550
Fan speed
RPM
850
850
910
Ambient temperature
℃
(-10℃~43℃)
(-10℃~43℃)
(-10℃~43℃)
Rated / Max outlet water temp.
℃
55 / 60
55 / 60
55 / 60
Refrigerant


R22/R407C
R22/R407C
R22/R407C
Noise in 1 meter distance
dB
63
63
66
Cabinet



Stainless Steel/

galvanized powder coated steel

Stainless Steel/

galvanized powder coated steel

Stainless Steel/

galvanized powder coated steel

Low pressure protection system


Yes
Yes
Yes
High pressure protection system


Yes
Yes
Yes
Water flow switch


No
No
No
Automatic defrosting system


Yes
Yes
Yes
Water system
Water output (L/H)
670
830
1200
Water pipe(mm)
DN40
DN40
DN40
Water pump for option
Lift (H)
15
15
15
Water flow (m³/h)
10
10
12
Product Dimensions
mm
1424x717x960
1424x717x960
1600x805x960
Package Dimensions
mm
1524x817x1160
1524x817x1160
1700x905x1160
Product Net weight
kg
210
230
300
Heating: Ambient temp. (DB/WB): 20℃/15℃,water temp. (input/output):15℃/55℃
AIM is a professional heat pump manufacturer based in China. With over decades of experience in the HVAC industry, AIM has become one of the leading brands of quality heating, cooling & hot water system. Our main products include heat pump, air conditioner & water tank equipment.
Guangdong AIM Energy Saving Technology Co., Ltd. was founded in 2000 and have well experience in energy-saving products, which is one of biggest Stainless steel heat pump in China. We have developed whole series of heating system equipment & energy-saving products with 10 series and more than 50 kinds of products.
Our products range is as below: Air to water heat pump;Water to water heat pump;Water to air heat pump;Commercial air conditioner;Fan coil units.
Besides Chinese market, export business is our main business. So most of our products are coming with international standard, some of our products have obtained international certificate, such as CE, RoHS, SAA certificate and ERP label etc, and our factory execute ISO9001:2008 strictly. We are always insists on the principle of quality first, customer first, and focus on high-quality, competitive cost & fastest services. So far, our products have entered over 50 countries and regions with either brand name AIM or OEM brand.

We are always on the look-out to build strategic partnerships in overseas markets and welcome opportunities where we can work in tandem with you and succeed together. OEM & ODM enquires are welcome.

Looking towards the future, AIM will build a fresh and quiet living environment and comfortable life for you.
Package and Shipment:
1)AIM can sure shipment within 20 working days .
2) Strong plywood pallet , carton package for FCL full container loading, strong plywood box for LCL loading
3)All spare parts together loading into package ,one time finished shipment to buyer
4)Take video for buyer before package to 100% sure buyer get product same as order , no any different.
Services:
1) OEM/ODM service is available.
2) Produce heat pump according to ISO items , design following customer's special demands, test as Europe EN14511 standard.
3) Supply 1~2% free spare parts according to order quantity.
4) General testing and operational test carried out for every unit before delivery.
5) 18 month whole unit warranty period. Using life free technical support.
6) 24 hours technical services online
7) Video teach how to install ,how to maintain.
Get the latest price? We'll respond as soon as possible(within 12 hours)