HVAC
HVAC
Brand :AIM
Product origin :China
Delivery time :20 days after payment
Supply capacity :5000units/month
It supplies heating and cooling water like as air conditioner in summer and winter.

Features:
Metal case, SUS 304 Stainless steel case
Economic & durable & stable running
Heating and cooling as air conditioner
Intelligent defrosting
Low noise & vibration
Famous brand compressor
Energy saving >75%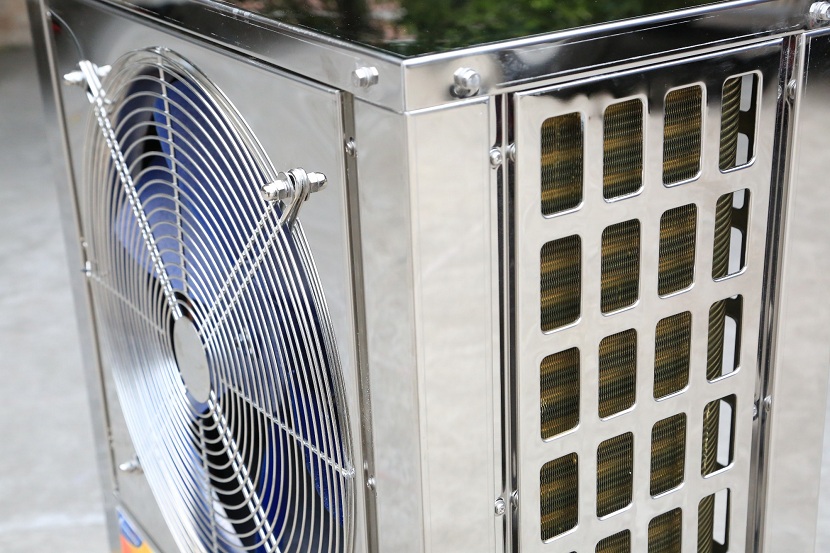 high-COP,EER Air cooled Chiller small heat pump for domestic floor heating, fan coil cooling
| | | | |
| --- | --- | --- | --- |
| Model | DKFXJT-3.0-11.2I/FR | LSQ-5HJ/FR | JT-20II/FR |
| Horse power (HP) | 3 | 5 | 6 |
| Heating capacity (kW) | 8 | 14.7 | 19.8 |
| Cooling capacity (kW) | 7.5 | 12.5 | 18 |
| Heating power input (kW) | 2.4 | 4.2 | 6.2 |
| Cooling power input (kW) | 2.5 | 4.6 | 6.5 |
| Heating COP | 3.33 | 3.50 | 3.19 |
| Cooling EER | 3.00 | 2.72 | 2.77 |
| Heating current input (A) | 15 | 8.6 | 11 |
| Cooling current input | 16 | 9.2 | 12 |
| Max current input | 18 | 10.32 | 13.2 |
| Power supply (V/Ph/Hz) | 220/1/50 | 380/3/50 | 380/3/50 |
| Refrigerant / Charge(kg) | R22 or R410A /2.2 | R22,R410A /4 | R22,R410A /4.5 |
| Compressor No. (pcs) | 1 | 1 | 1 |
| Compressor type | Scroll | Scroll | Scroll |
| Heating water outlet temp range | 40/45℃ | 20 | 40/45℃ |
| Cooling water outlet temp range | 7/12℃ | 7/12℃ | 7/12℃ |
| Pipe diameter | 1" | 1.5" | 1.5'' |
| Water flow (m³/h) | 3 | 5 | 6 |
| Water side pressure loss | 35Kpa | 35Kpa | 35Kpa |
| Water flow pressure drop | 0.01-0.02 Mpa | 0.01-0.02 Mpa | 0.01-0.02 Mpa |
| Max pressure of suction / discharge | 0.8 / 2.8Mpa | 0.8 / 2.8Mpa | 0.8 / 2.8Mpa |
| Running noise dB(A) | 66 | 68 | ≤68 |
| Protection / Anti-electric shock rate | IPX4 / Class I | IPX4 / Class I | IPX4 / Class I |
| Running ambient temp. | -10~+43℃ | -10~+43℃ | -10~+43℃ |
| Net weight (kg) | 88 | 125 | 138 |
| Top type dimension (LxWxH) | 717x717x860=0.44m³ | 717x717x960=0.49m³ | 805x805x960=0.62m³ |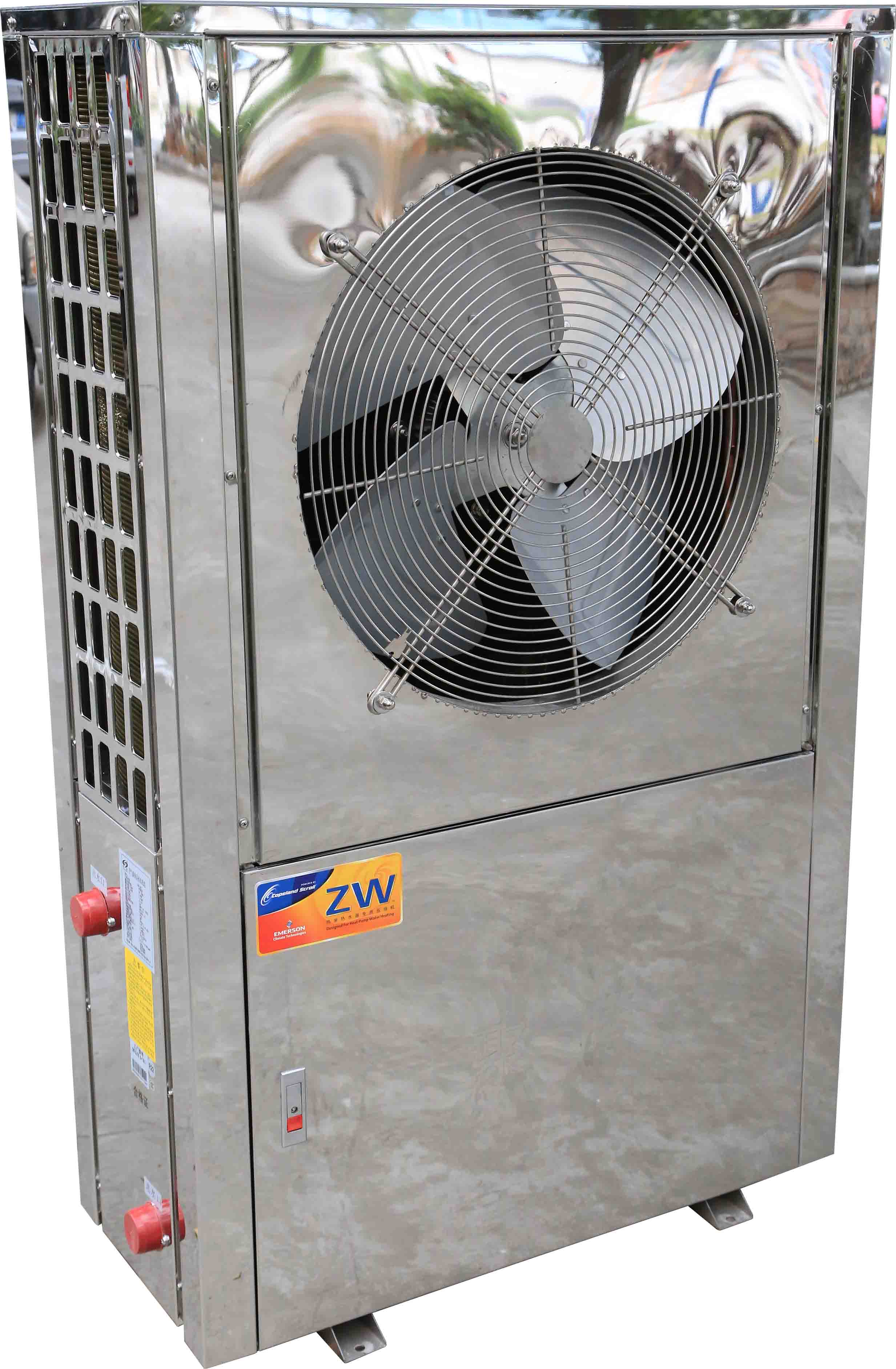 Main quality control project list:
1. Check all parts before assembling.
2. Charge nitrogen to test leakage and pressure maintaining after welding system.
3. Vacuumize, the vacuum pressure ≤30Pa
4. Leakage detection by halogen after charge refrigerant.
5. Safety testing: High-voltage insulation test and ground resistance.
6. Operation testing, record refrigerant pressure, temp. etc.
7. Inspect inside unit's cleanliness and appearance.
Working Principle:
Compressor gets the low temperature and low pressure air refrigerant from evaporator,
then turn it into high temperature and high pressure air,
this air gets into the condenser to exchange the heat with water,
then the condensed air become low temperature fluid and release lots of heat energy.
Water gets this heat energy and become hotter and hotter.
This high pressure and low temperature fluid become low pressure by the primary flow meter device.
This low pressure and low temperature fluid, gets into the evaporator, Under the function of rotation fan, heat energy from air is absorbed by the fluid and becomes low pressure refrigerant,
then is absorbed by compressor, recycling to produce the hot water.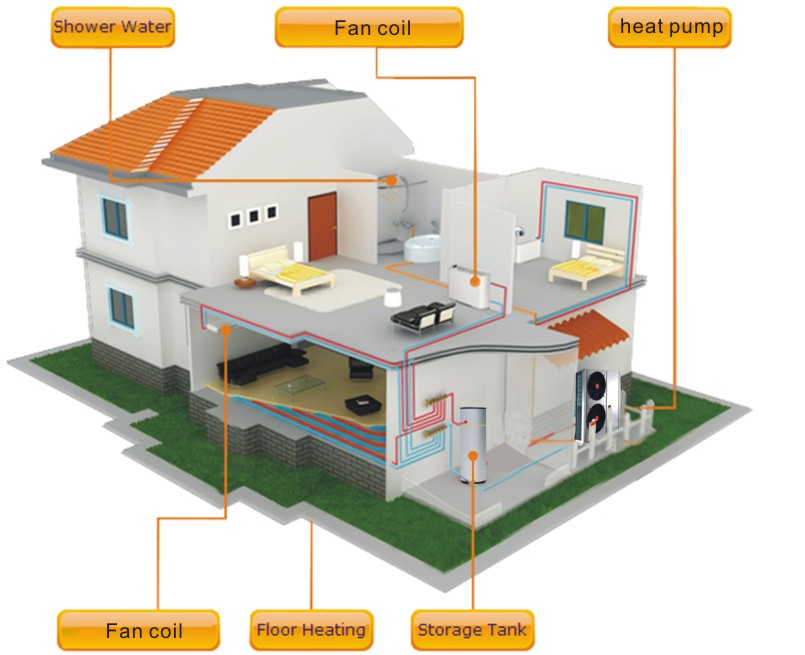 Professional Testing laboratory was built about $450,000, which have a whole set testing:
1) Standard heating, cooling
2) Simulate Low and High temp working condition, a variety of ambient temp, indoor temp and outdoor temp.
3) Power consumption
4) COP and SEER
5) Defrosting
6) Air conditioner, water source, air source and hot water heat pump performance and capacity reliability testing
7) Controller function testing
8) Test goods at all kinds of power supply
9) Setting Temp ranges -25~60℃, its accuracy is +-0.2℃; Humidity ranges 20%~99%, its accuracy is +-1%.
10) DC inverter water flow and air flow control (100m³/h ~ 3000 m³/h) Temp, pressure, power collector
Get the latest price? We'll respond as soon as possible(within 12 hours)